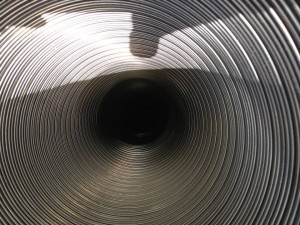 When you use your chimney, the smoke and soot it produces are going to go up and out of your home through your chimney, if all is well inside of the said chimney. You can usually tell when something is wrong within your chimney because of cold drafts or smoke entering your home rather than going outside where it belongs.
Much of the operation of your chimney depends on the well being of your chimney flue or chimney liner. This is a part of your chimney that protects the brick masonry from the build-up of creosote, thereby reducing the risk of a chimney fire. It also helps the smoke from your fire exit the way it is supposed to. Your chimney liner is vital to the use of your fireplace and the protection of your home.
So when your chimney liner in St. Paul starts to struggle, it is going to help you to know what type of liner you might be looking to repair or replace.