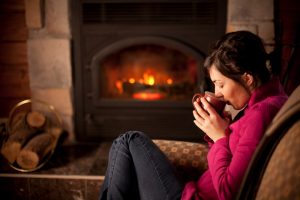 Now that we are in the midst of the winter season, it is a good time to think about any fireplace repairs that have to be made. We still have a couple more months of cold weather ahead of us before we can enjoy some warmth, so any repairs that need to be made now, should. Of course, when it comes to your fireplace, safety is a priority, so it is best to contact a professional right away if you notice any signs of an issue.
A broken fireplace damper needs to be repaired as soon as possible. If it is sealed shut, smoke can quickly back up into your home. When it is working properly, the damper should be able to open and close when you need it to, however, sometimes it can get stuck in either position. If this happens, you need to hire a professional fireplace technician right away to address the problem. In case you aren't yet convinced, we have listed a number of reasons why you need to repair that faulty damper now. Keep reading below to learn more. 
The Problem
The Damper Won't Open
When it is working properly, the damper should effectively trap the air and heat in your home, keeping it from moving out through the fireplace. And when you want to use the fireplace, the damper needs to be opened to properly vent out smoke from the fireplace.
When the damper is sealed shut, there is no safe way to use your fireplace, as smoke will quickly fill up inside your home. It is better to have this issue fixed as soon as possible to restore safe fireplace function.
The Damper Won't Shut
The opposite problem of a sealed damper is a damper that won't close. Although this issue does not pose any safety threats to you or your family while using the fireplace, it does significantly reduce your home's energy efficiency, causing heating and cooling bills to skyrocket depending on the time of the year.
Conditioned air from your heating or cooling system will escape through your fireplace chimney when the damper is unable to close, making it quite difficult for your heater or air conditioner to do its job. Plus, it could leave you a bit uncomfortable if it happens during the coldest or hottest time of the year. Call for repairs as soon as possible if this happens.
The Resolution
If your damper is either stuck open or sealed shut, the best thing you can do is contact a professional fireplace technician right away. Typically, the issue can be resolved by cleaning up the dirt that has made the valve stick. Often, this issue is a result of a larger problem, so it is recommended to have your entire chimney cleaned.
Over time, creosote build-up due to dirt, debris, and soot can become problematic, as it is very flammable. You should scheduling chimney cleaning in St. Paul, MN annually to avoid the problems associated with this tar-like substance, keeping your family and your home safe.
For all your chimney and fireplace needs, contact the team at 2nd Generation Chimneys, Inc.