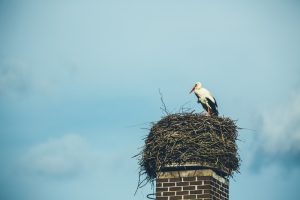 Springtime is in full swing and summer is right around the corner. You can always tell that winter has ended because of the sudden increase of blooming plants, flourishing foliage, and an abundance of furry and feathered critters around the area. It is always a treat to sit on your porch or in your backyard and hear the birds chirping away in the trees or watch squirrels run around in the grass. Spring is always a season full of life that is thriving just outside your door.
And as cute as those squirrels are you probably want them to stay outside.
While springtime and summer are both wonderful times of the year thanks to the great weather and extra sunshine, they can also be seasons during which you start having problems with your animal neighbors because you don't see eye to eye–where you see a chimney and fireplace built to keep you warm, they see a great place for a nest and a new home.