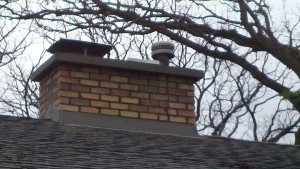 There is a lot to love about winter, from snowshoeing and ice fishing to skiing trips and snowmobiling. It really can be a very fun time of the year for the outdoorsmen and women among us. Even the most rugged individuals, however, and even those with the best gear on the market, look forward to coming home to a warm, comfortable environment at the end of the day. The critters outside are not all that different in this regard.
Of course, it can be more difficult for those critters to find warm, comfortable shelter—unless, that is, your chimney is available! Now, we know that there are a lot of animal lovers out there, and we don't want to think about those cute little fellas being stuck outside in extreme cold. But you also really don't want them setting up shop in your chimney, either. That is why you want to schedule your animal removal services in Minneapolis, MN with our team.
What's the Big Deal?
For starters, the fact of the matter is that undomesticated animals are not clean. It is not just a matter of the animal itself being in your chimney. It is a matter of the droppings, hair, and other materials that they can leave behind. If you think that this is not an issue because it's confined to your chimney, think again. That type of stuff can drop down into the hearth, and you don't want to be breathing it in.
There is also the fact that, well, animals die in chimneys. And if you have ever had an issue with a dead animal in your walls, beneath a porch, etc., you know that it stinks! Not only can we remove dead animals for you, but we can sanitize everything down so that there is no concern about biological contaminants being left behind.
But How Do I Prevent It to Begin With?
By dialing our number. We are more than happy to inspect your chimney for holes and cracks that could be letting animals in. They truly can squeeze through just about anything! Plus, they can get in right from the top of the chimney! However, we install things like chimney caps and screens that will help to keep the critters out.
This is the type of job that you want to leave to professionals, as well. You don't want to be scaling your home, trying to find the right parts to fit your chimney, clipping screens, etc. And you definitely don't ever want to try and fix holes or gaps in your chimney's masonry on your own. Any and all such services can only be completed by qualified, experienced professionals.
And remember, those animals are made for this environment! Protecting your home from contaminants and unwanted guests doesn't mean you're being cruel! Let those animals nest somewhere else. They'll probably find someplace safer than over a roaring fire, anyway!