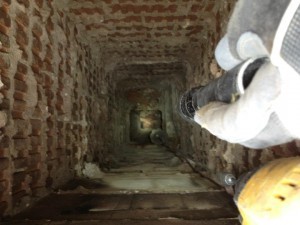 It may not be the prime time of year for chimney sweeps, but we still want to make sure you get the information you need to stay safe. As the weather warms up, it presents the perfect opportunity to repair a damaged chimney, install a new fireplace, or schedule your routine chimney cleaning. Before you do, however, you might have some questions.
Why Does a Chimney Need Cleaning?
Dangerous, flammable materials may be found within the chimney. Of course, the fireplace is supposed to be on fire, but the chimney is only supposed to vent the byproducts of combustion as the flame is created, like water vapor and smoke. When a fire starts in the chimney, it can spread to the outside of a home and become engulfed in flames sooner than one would expect.
What Is Creosote?
When chimney sweeps inspect your chimney, they are looking for any number of potential signs of damage to the inside of the flue or the outside structure. But primarily, what they look for and clean is creosote. Creosote is a tarlike substance that builds up within the chimney after you burn wood. It combines with soot and becomes highly flammable. When a creosote buildup is too thick, a chimney sweep may tell you the fireplace is unsafe to use until the problem is resolved.
Why Can't I Clean a Chimney Myself?
Cleaning a chimney requires more than a broom and some patience. A chimney sweep has the experience and tools to determine just how much creosote is in the chimney, and where, and is therefore more qualified to select the proper tools. There are brushes in different sizes and shapes designed for different jobs, and other equipment for scraping or disinfecting a surface may also be required.
A qualified chimney sweep is trained, first and foremost, for safety. This goes beyond safe practices of climbing a ladder, although this certainly factors into it. They are also providing a thorough inspection to make sure your home is absolutely safe the next time you start up your fireplace. It's important to hire a professional any time you need chimney and fireplace services.
How Often Should the Chimney Be Cleaned?
We recommend doing this once a year–no matter what. Even if you only use the chimney once or twice a year, a chimney fire is not worth the risk. Get a complete inspection and cleaning of your chimney before winter, and get a head start on repairs early in the year.
How Do You Know When a Chimney Sweep Is Scamming You?
Check with the Better Business Bureau before hiring a new company, and ask for proof of licensure if necessary. In addition, we feel we should warn you that you should never hire a company that's going door to door offering to sweep your chimney. Just because they are available and ready with a truck full of tools, it doesn't make them qualified for the work. Poor quality work puts your home at risk, and wastes your money.
Contact 2nd Generation Chimneys, Inc. for chimney cleaning in Minneapolis, MN.