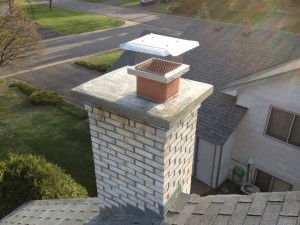 As the weather warms up, you're probably not going to think much about using your chimney and fireplace. That doesn't mean your chimney is immune to problems. You can actually run into a lot of problems with your chimney or fireplace in the spring and summer, especially if you don't call a technician for routine inspection and cleaning this year.
Take a look at a few of the problems you might run into this spring and summer, and make sure your chimney is in tip-top shape before it's back in service in the fall.
#1: Unwelcome Guests
A chimney is a perfect place to build a home, if you're a racoon or a squirrel. It's also an excellent nesting area for birds, including chimney swifts. It can be tough to remove an animal from your chimney, and it's not something you should do on your own. In fact, it may be illegal. Always call an experienced animal removal service for raccoons and the like.
Some bird species are actually protected, meaning you cannot remove them if they're nesting on your chimney. They'll move on, and you can clear the nest once it is inactive. A wire mesh may help to keep critters out, especially around a chimney cap. An expert can help you ensure the mesh is not big or small enough to trap animals.
#2: Water Damage
Water is actually one of the biggest threats to your chimney. Water damage can destroy the structure of a chimney, which leaves it more vulnerable to a fire. A lot of water damage happens in the winter. The freezing and thawing of snow and ice means the structure of your chimney continuously expands and contracts, and that can be dangerous.
Spring showers can also take a toll on the structure of your chimney. That's why it's important to schedule regular inspections for your chimney, even during the off-season. A technician can let you know if repairs need to be made to the chimney or the flue liner to remediate damage.
In addition, you should invest in a chimney cap if you don't have one already. This chimney topper helps to prevent water damage, and it also keeps out the critters. A professional chimney technician can install one for you.
#3: Dirt, Debris, and Creosote
A long period without use can allow dirt and debris to build up in the chimney and fireplace. And your chimney may already be filled with creosote, a tarlike buildup that lines a chimney flue as part of the byproducts of combustion. Water vapor, smoke, and other byproducts combine together to create a highly-flammable residue in the chimney liner. Additional debris that develops over the summer and springtime can only make it worse.
Call chimney technicians each year in the off-season to schedule your chimney cleaning and inspection. A chimney sweep can clean out the chimney and make your home a safer place throughout the year.
Contact our friendly team today! 2nd Generation Chimneys, Inc. offers chimney cleaning and inspections in Minneapolis, MN.