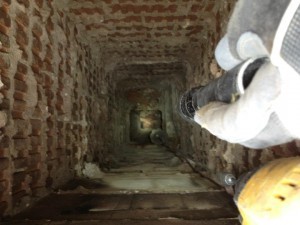 A chimney is not complete without a liner. Chimney fires are more common than you think, and you may have experienced one before without even realizing it. While you should do whatever you can to prevent a chimney fire—using a dry seasoned wood, proper ventilation, regular cleaning—what's just as important is making sure a fire cannot spread to the outside of the home.
A chimney liner stops flames from potentially spreading to the outside of the house. It helps to prevent chimney fires from occurring in the first place, and reduces water damage to a masonry chimney. There are many different types of chimney liners available, but one receives some critique. Think clay tile is the wrong choice for your next liner? We offer some advice here, but call a chimney sweep for more information about services available in your area.
What Sometimes Happens with Old Clay Tile Liners
In theory, clay tiles are an excellent means of lining a chimney. A chimney technician may even recommend it for your home, particularly with a brand-new home and chimney. However, there are two things that make it less than ideal. The first is an improper installation. Clay tile installation requires expertise that can be difficult to find.
The other threat to a clay tile chimney is time. As time passes, a lot of problems can develop. A lot of people decide to upgrade their liners when they hear about these common threats to their chimneys.
Gaps in the tile, which occur over time due to the effects of combustion, which may allow the clay to expand and contract.
Cracked flue tiles, which can occur for a number of reasons.
Tiles that are flaking due to years of corrosive chemical exposure.
Cast-in-Place Lining
Cast-in-place liners are an alternative to clay tiles, but the material is similar. Cast-in-place liners can be poured into nearly any chimney, which is why it is sometimes recommended. However, it runs into similar troubles to clay tile liners. Cracking and flaking is possible, and it can be difficult to ensure you have the right size you need for proper ventilation.
Stainless Steel Liner
Today, the most popular chimney relining technique is a stainless steel liner. A stainless steel chimney liner can be retrofitted into nearly any chimney. It should last for many decades and withstand many of the effects of a chimney fire. However, it's important to make sure it is just the right size for your fireplace or stove.
What to Do about Old Clay Tile Liners
One reason we always recommend that you have a chimney sweep install a liner is that you must have one that is the right width for your fireplace. You need a chimney sweep to ensure that an older chimney liner can be replaced with a stainless steel lining without altering the available volume in the chimney. Clay flue tile removal may take a while, but in terms of safety, it's usually preferable to putting a smaller metal liner into an old clay tile linter.
Contact 2nd Generation Chimneys, Inc. for a new stainless steel chimney liner in Minneapolis, MN.