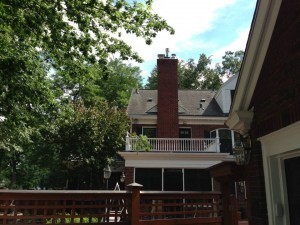 Spring is a lovely season when we get to see plants and animals flourish. While this is wonderful to experience in a majority of cases, it can also cause some annoyances. Just ask anyone with allergies how they feel about all of those flowers blooming!
Extra pollen in the air isn't the only issue that might come from this time of year. All of those little critters may be looking for a nice place to call home and some of them may mistake your chimney for a great piece of real estate. It's warm, dry, and safe–at least until you start up the fireplace!
Animals getting into your chimney isn't something that we advise trying to address yourself. Let the experts at 2nd Generation Chimneys, Inc. help you clear out any unwanted squatters from your chimney.
Step 1. Know What To Look For
Knowing what warning signs to watch for can help you in a lot of cases, including when you are trying to figure out if there are animals in your chimney. If you aren't sure about whether there is an animal in your chimney, make sure to check for these warning signs:
There is a bad smell: Your nose is likely to pick up on something amiss pretty quickly. It may smell musty or dirty or, in a worst-case scenario, you may even be smelling decay from an animal that passed while in your chimney. If something smells weird in your chimney it is always best to have a technician check things out.
You can hear something in the chimney: Animals, even small ones, can be pretty noisy. This is why it is a good idea to listen for those little skitters and squeaks. If you hear animal sounds coming from your chimney you may need to address them before they damage this system.
There is visible debris: Maybe it is fur or droppings or dirt or something else. Whatever form it takes, animal debris is going to be one of the more obvious signs that there is an unwanted guest in your chimney.
Step 2. Get Help Clearing Out Animals And Cleaning Up After Them
If you discover that there is an animal or animals in your chimney, we'd suggest reaching out for expert assistance to get rid of them. Our team has served homes in the area for years which is why you can rely on our animal removal and sanitization in Minneapolis to get the job taken care of.
We can shoo away those unwanted chimney visitors and clean up after them so you don't have to worry about debris getting into your house later this year.
Step 3. Talk to a Chimney Technician About Ways to Keep Critters Out
Last but not least, let us help you make sure that your chimney is as well-protected as possible. We can help install or repair chimney screens and caps to keep animals and other debris out of your chimney.
Having trouble with your chimney or fireplace? Looking for a team to help you keep this part of your home in prime condition? Contact 2nd Generation Chimneys, Inc. for the services you need.