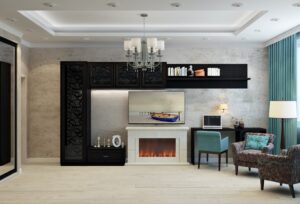 You may not be using your fireplace and chimney system pretty much at all for the next few months. We get that. No one is really up to stoking a fire unless it is to roast marshmallows in the backyard (please don't do this in your living room fireplace). While you may not be using this indoor system at all it doesn't mean that you should ignore your chimney until you need it again.
Taking the time to double-check that your chimney is in good condition is something that will benefit your home environment now and later on in the fall too. Here are three different ways that you can ensure your chimney is kept in good condition now and later in the year.
Double-check your damper
The damper within your chimney is responsible for managing airflow through your chimney. When you use your fireplace, you always ways your damper open and unhindered. But what about during the summer?
We advise checking on your damper during the summer season too. Keeping your damper close on a hot day can actually help keep your home more comfortable for longer. We also advise checking your damper to make sure that it is working properly. This way there is one less thing to worry about once fall arrives and you want to open the damper to enjoy a nice fire in the evening.
Schedule a chimney inspection and sweeping
Have you had a chimney inspection done yet this year? If not, then now is a great time to do so. Getting a chimney inspection is a great way to make sure that everything is okay with your chimney and that it will be ready for use the next time you want to enjoy a fire. This also is going to be the first step required before getting scheduling a chimney sweeping in Minneapolis that will address any built-up dirt and debris in the chimney that could cause problems later on.
Check your chimney cap and screen
This is something that should be done as a part of your chimney inspection. A chimney cap and screen aren't just helpful when it is rainy and cold. They help protect your chimney all year long from debris and animals. A cracked chimney cap can expose your chimney to added dirt or moisture that could cause problems the next time you want to use your fireplace. Likewise, a hole in a chimney screen can allow small animals a chance to make your chimney into a home. Avoid these problems by having your chimney checked and any damaged cap or screen repaired.
Whether you are currently using your chimney or you are letting this part of your home lay dormant for the next few months, it is a good idea to make sure it gets the care that it needs. This can have a great impact on your home comfort now and it can save you a lot of time and hassle when you do want to start using your fireplace again.
For expert chimney services, contact 2nd Generation Chimneys, Inc.