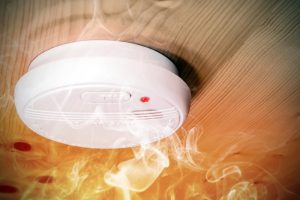 For most of the year, we post articles about what to do in order to prevent fires from occurring in your chimney and spreading to the outside of the home. In the summer, however, you may think you have little to worry about it.
For the most part, this is true. It's important to keep your chimney in good condition, scheduling inspections and repairs as needed. However, you likely use your chimney sparingly, if at all, and you won't have to worry about a chimney fire again until the next chilly day.
Still, fires are possible when warm dry weather picks up. Downdrafts from the chimney can contribute to this, and no matter where a fire originates, it's important to have a fire safety plan in place.
The Dangers of Downdrafts
Of course, you know that your chimney was designed to vent smoke and other byproducts out of the home and into the air. A downdraft occurs when there is no fire in the fireplace, but air moves in from the top of the chimney and down through it.
This is more likely to happen when the indoor air is cooler than the outdoor air. Thankfully, you may notice the issue, as the smell of soot fills your home. But if so, you must take this seriously.
Carbon monoxide can fill your home due to a downdraft, which is a major health and safety risk.
Creosote can spread out through the chimney and put you at a greater risk of a chimney fire.
You can prevent downdrafts by installing a solid chimney cap and a damper that closes off your chimney when not in use.
Make sure you have a smoke and carbon monoxide detector in place in your home, and have a fire safety plan for your entire family to follow.
2nd Generation Chimneys, Inc. services your chimney in St. Paul, MN. Give us a call today!