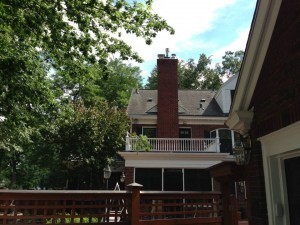 On this site, we emphasize the importance of having regular chimney and chimney flue cleaning in Minneapolis, MN. We recommend a yearly cleaning along with a Level 1 chimney inspection to ensure the chimney is free of buildup of creosote and anything that may block it, and to check for possible damage and wear that needs repairs.
But are professionals like ours really necessary? You might wonder if you can clean the chimney yourself. Maybe you can find an online video tutorial. With a face mask, a set of old clothes, tarps on the ground, a few scrubbers on long handles, and a bit of elbow grease, you should be able to get the job done. Right…?
Although we encourage you to handle some chimney maintenance tasks on your own, the actual job of cleaning a chimney is something to leave to the professionals. We'll explain why below.
The Cost
The reason most people give for wanting to do a DIY chimney cleaning is money. They think that if they handle the job themselves rather than pay a pro they'll save money. This isn't true! In fact, trying to go DIY is often more pricey than going straight to a professional.
Providing a full chimney cleaning requires expensive equipment: heavy-duty cloth tarps, a rotary toolkit, rotary brushes, a commercial-grade shop vac with an extension hose, hand brushes, extension rods, a professional respirator mask, and more. You may have some of these in your house, but only a few.
The Hazards
Cleaning a chimney comes with several hazards, such as exposure to harmful chemicals inside the chimney and the danger of climbing onto the roof to clean the chimney top. (Please, never get onto the roof of your house to perform any type of work. This is a leading cause of household injuries.) Professionals have the tools and training to make sure these jobs are done safely and they also have insurance to cover any damage or injuries sustained on the job site so you won't be liable.
Insurance
Insurance companies sometimes require proof of annual chimney cleanings and inspections. A DIY cleaning doesn't count—so you may end up going through the time and expense of cleaning the chimney on your own but still need to call in the professionals.
Time
An amateur chimney cleaning can take hours to complete, possibly consuming most of the day. Even then, the job still won't be as complete or thorough as what a professional can do. It's better to let licensed experts get a better job done in less time. 
You still need a chimney inspection.
A chimney inspection is an important annual job and our chimney sweeps often perform it as part of cleaning. It's vital for ensuring a fireplace and chimney will work correctly without creating safety hazards.
This inspection isn't something an untrained person can accomplish: to provide a Level 1 (or 2 or 3) chimney inspection requires licensing from the CSIA (Chimney Safety Institute of America). So there's one more reason to only rely on professionals for your chimney inspection to add to the pile.
2nd Generation Chimneys, Inc. serves Minneapolis, St. Paul and the Surrounding Communities. Schedule chimney cleanings and inspections with us today.