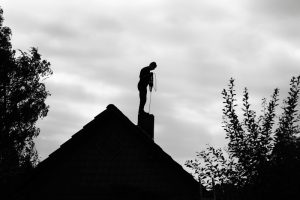 If you have a fireplace in your home, you'll need to have it routinely cleaned. This is an essential job because it helps keep the chimney working both effectively and safely. Allowing too much buildup to develop in a chimney will lead to bad venting and fire hazards.
But when it's time for chimney cleaning in Bloomington, MN, who do you hire for the job? You have several options, but only one is the correct on:
Get out some drop cloths, put on an old T-shirt, grab a broom and a ladder, and do it yourself.
Find someone offering super-low prices to do the job.
Hire professional chimney sweeps with proper certification.
The correct answer is "C." We'll explain why professional chimney sweeps stand apart from DIY and amateurs. Why they are the only people to consider hiring for your regular chimney and fireplace cleaning needs.
Why Choose Professional Chimney Sweeps?
1. Safety
This is always the top concern with any work done with a chimney. One of the main reasons you shouldn't attempt to do this as a DIY project is that you should never get up on the roof of your house. Another reason is that poorly done chimney cleaning jobs won't eliminate the potential fire hazards inside a dirty chimney.
Only professional chimney sweeps have the special training and knowledge to do the job safely and correctly identify potential hazards in the chimney. They understand the dangers of creosote buildup, blockages, and other various potential causes of chimney fires and carbon monoxide leaks.
2. Proper Equipment
No, you can't do this job with a vacuum and a long-handled brush. Amateurs don't have access to the necessary tools either, nor do they have the training necessary to use these tools. Professional, certified chimney sweeps have the right brushes, cameras, rods, and other equipment to get the cleaning job done thoroughly and remove all potential safety issues inside a chimney.
3. Knowledge of Codes and Regulations
Chimney services including chimney cleaning are subject to local building codes and regulations. Jobs must be done to meet these standards. Only professional chimney sweeps have the complete training and necessary permits to allow them to meet these codes. If you go with an amateur to clean your chimney, you may end up violating local codes and have a chimney that doesn't meet safety requirements.
4. CCP Certification
Certifications like CCP (Certified Chimney Professionals) add an extra layer of assurance when hiring a chimney sweep. CCP is a nationally recognized certification program administered by organizations like the Chimney Safety Institute of America (CSIA). Chimney professionals with CCP certification have demonstrated their knowledge and expertise through rigorous training and testing.
How to Verify a CCP Certification
To confirm whether a chimney sweep has CCP certification, you can use the "License Lookup" tool provided by the Minnesota Department of Labor and Industry. Simply visit the License Lookup page on their website and enter the company's information to verify if they have certification.
2nd Generation Chimneys, Inc. has CCP certification as well as CCR (Certified Chimney Reliners) certification. We are a fully licensed and insured Minnesota registered corporation, and you can read our many testimonials from satisfied customers.
2nd Generation Chimneys, Inc. serves Minneapolis, St. Paul and the Surrounding Communities. Schedule chimney cleaning with our Certified Chimney Professional.