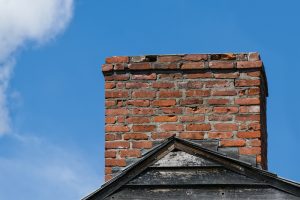 Water entering your home is certainly a cause for alarm. Inclement weather can make our homes especially susceptible to leaks and water damage. Most homeowners are unaware that their chimneys can be a potential site of a leak in their homes. Your chimney receives exposure to the elements: wind, rain, snow, sleet, etc. Winters here in Minnesota are especially brutal, so in this part of the country, your chimney is more susceptible to damage. Water entering through leaks in a chimney will freeze during the winter, and as the water expands when it turns into ice, it will cause even larger cracks.
A leaky chimney could spell significant damage to your home and property and leave your chimney vulnerable to further damage. It is important that you contact a chimney professional right away to seal up any leaks that might exist. Sometimes a chimney leak can be difficult to spot, so below, we've provided you with some of the signs that indicate your chimney is leaking.
Signs of a Leaky Chimney
As we mentioned above, chimney leaks can be difficult to spot. Leaks are often not recognized until they've caused significant damage to your home and property. You might have a chimney leak if:
There is water condensation inside of the fireplace.
There is moisture, leaks, or water stains on the walls near the chimney.
You hear dripping sounds in the chimney.
There is cracked interior or exterior masonry.
You notice musty odors, especially after rainfall.
There are rust stains in the fireplace.
You notice standing water.
Why is it a Problem?
A chimney leak is a big deal and needs to be taken care of right away. The problem is that prolonged exposure to water will create cracks and gaps along the chimney and flue liner. These gaps are spots for creosote to collect and create a higher risk of serious damage to the chimney. It will also lead to poor venting, which can be a serious issue.
I Have a Leaky Chimney: Now What?
If you suspect you have a chimney leak, the best thing to do is call a CSIA (Chimney Safe Institue of America)-certified chimney sweep right away to perform your leaky chimney services in Minneapolis, MN. A chimney sweep can pinpoint the source of your leak and take the steps necessary to seal it. In most cases, the chimney professional will apply waterproofing agents inside the lining of the chimney that allows moisture to escape from the interior but keeps the moisture from getting back in. A chimney sweep can also install a rain cover if you don't already have one. A rain cover can help prevent water from entering the chimney.
We never recommend trying to seal chimney leaks yourself, since most sealing materials can end up trapping moisture, which makes the problem worse. Instead, contact 2nd Generation Chimneys, Inc. We offer professional chimney repair services, including chimney resealing and resurfacing to keep your chimney watertight. Occasional repairs are necessary to keep your chimney standing for years to come.