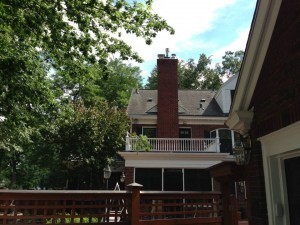 You may have heard before that it's so important to clean out and inspect your chimney each year. Chimney cleaning is a professional service that can protect your home from fires, but should you really worry about this now that temperatures are rising and you don't plan to use your chimney and fireplace for several months?
We think so. Spring and summer are perhaps the best times to schedule a chimney inspection and sweeping. You can prevent problems that would cause a potential fire in the colder seasons, and even help to prevent damage to your home that can occur at any time of year. Here's why your chimney might not be safe for summer and why you should call chimney sweeps this season.
Critters Make Your Chimney Unsafe
Of course, one major concern is that a critter may become injured in your chimney or fireplace. You'll know to call for help ASAP if a rodent is crawling around in there. However, if a nesting bird is safely perched atop a chimney, you'll have to leave it alone until it's ready to leave.
Otherwise, most people usually don't notice a critter has entered the chimney until it starts to smell—or until a chimney sweep completes an inspection. If something like this goes undetected into the winter season, you can have a major fire hazard on your hands. Don't let a potential intruder make your fireplace and chimney into a danger zone. Schedule inspections each year!
Potential Damage to the Chimney Lining
Another potential problem that can develop within your chimney moving into the summer is when the chimney lining becomes damaged. This can happen due to environmental effects or with the passage of time. Most often, a chimney requires repair due to water damage.
Water is a chimney's natural enemy. When water gets into a chimney, it can damage the masonry, increasing the chances that a fire could spread to the outside of your home. After an inspection, a chimney sweep may recommend a chimney cap to help keep the water out (and it can keep out critters too!). However, you may need costly repairs for the masonry. The more often you schedule inspections, the less severe problems are likely to be when they do come up. Call your chimney sweep each year.
A Water Leak in Your Home
Finally, water can do more than damage your chimney. It could also damage the inside of your home. Water leaks can come into a home through the flashing, where the chimney meets the rooftop and requires difficult sealing to keep the roof watertight. If the chimney flashing wears down, you might face water damage, mold growth, and a major headache.
If a technician notices anything out of the ordinary with your chimney flashing, they can do a thorough inspection and repair to prevent water from leaking into your home in the first place.
2nd Generation Chimneys, Inc. offers chimney cleaning and chimney inspections in Minneapolis, MN. Call us today to schedule service in the warmer months and prevent danger in the fall and winter!