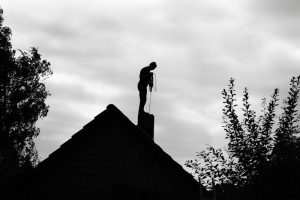 Hopefully, you've heard before just how important it is to schedule a chimney inspection each year. We tell our customers and neighbors this all the time, but you might feel as though you can do a sufficient job yourself. We're here to tell you it takes experience. A trained chimney sweep can recognize problems, and carries the right tools to detect problems sooner.
Want to know what professional chimney sweeps are looking for during an annual inspection? Take a look. It's more complex than you may think.
Creosote
First, a chimney technician is looking for any buildup within the chimney that may be considered a fire hazard. And the most common hazard of all is creosote. Creosote is a tarlike substance, something that forms naturally as a result of the combustion process. But when it cakes the insides of chimneys and fireplaces, you have a higher risk of chimney fires. An excessive amount of creosote will result in a big cleanup job, and you'll need chimney sweeps with the right tools for the job.
Structural Problems with the Chimney Flue or Masonry
A structural problem within your chimney would almost be more disastrous. Chimney fires are surprisingly common. They happen in many chimneys without the homeowner ever knowing! (Of course, you want to prevent this in any way you can.) But a crack in your chimney's masonry or a structural problem inside of the flue could cause a fire to spread to the outside of the home. A technician will check for this and alert you to any repairs you may need.
Insufficient Sizing or Installation
It's possible that your chimney was not properly sized for the fireplace or stove that uses it. Improper sizing can cause smoke to back up into a home and can be extremely dangerous. That's why you should always have an inspection before you move into a new home and only allow a professional to size and install your chimney vent!
2nd Generation Chimneys, Inc. offers chimney and fireplace services in St. Paul, MN. Call us for your chimney inspection today!