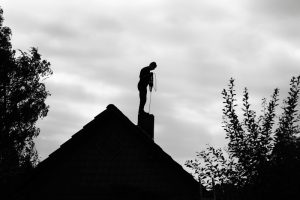 Most of us have watched the iconic "Mary Poppins" movie scene with dancing chimney sweeps hopping from roof to roof and covered in soot. While chimney sweeps around here might be a little less magical, that doesn't make them any less important. This is because chimney sweeping is a job that is best left to the professionals (that's us) to ensure your comfort and safety.
It may not come across as a job that requires a lot of skill (you know how to sweep after all) but this couldn't be further from the truth. The tools and knowledge required for proper chimney sweeping in Minneapolis, MN are only going to be found with a trained professional. That is why you should always reach out to 2nd Generation Chimneys, Inc. to keep your chimney and fireplace clean and clear.
What Does Chimney Sweeping Entail?
Chimney sweeping is an important service that keeps your home cozy and safe. It might not sound like much, but chimney sweeping and cleaning is a job that requires professional tools and skill, at least if you don't want to damage your chimney or end up with a lot of nasty debris in your home.
Chimney sweeping involves the use of special brooms (such as a wire chimney brush), vacuums, and even some helpful cleaners (like a powder-based creosote remover to ensure that your chimney flue is left as clean as possible. In some cases, your technician may even use a camera inspection to check for any major problems in your chimney. This addresses dirty build-ups like creosote that could otherwise cause unpleasant smells or even put you at risk of a chimney fire.
Overall benefits of a professional chimney sweeping include:
Removal of any creosote build-up
No nasty smells
No smoke coming into your home
Increases your home comfort
Reduces chances of corrosion in your chimney
When Should You Schedule a Chimney Sweeping
Chimney sweeping and cleaning should be an annual service at the minimum. Much like your heating system, your chimney should be given a yearly inspection, preferably before you start to use it again, to make sure that everything is in good working order. A chimney sweeping and cleaning, if not performed at the end of the last season when you used your fireplace, would usually be taken care of as a part of this inspection.
In short, if you haven't scheduled a chimney inspection and cleaning for your fireplace and chimney this year, it means it is time to get this service taken care of. As we've mentioned throughout this blog though, you should always schedule this service with a trained professional like the ones on our team. We have the appropriate tools and experience to ensure that we inspect and clean your chimney properly. This way you can enjoy the winter season with a nice, warm fire and no hassle.
You can rely on the trained professionals at 2nd Generation Chimneys, Inc. for your chimney services. Contact us today to schedule an appointment.