A fireplace is a soothing, comforting source of heat when the whole family is gathered in the living room, playing games or watching television and making the most of a cold evening.
We hope we don't have to tell you that you shouldn't be using your fireplace as a primary source of heat. This is expensive, first of all, and it can be unsafe. You should never use a fireplace unattended, and it can only really heat one area of the home anyway.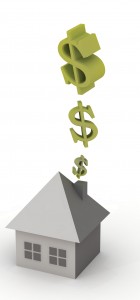 This winter, you may use both your heating system and your fireplace. If so, we want to make sure your home works as efficiently as possible and that you get the most out of both of these comfort systems. Follow these tips to make sure your fireplace and chimney don't contribute to higher energy bills than you need.
#1: Close the Damper
When you are not using your fireplace, it is so important to check that the flue damper is closed off. This must be opened when you use your fireplace so that smoke (and other byproducts) has somewhere to vent. However, when you are using your central heating system, you must close off the damper so that heat does not exit your home. It's an easy way to lose dollars through your chimney.
To close off the chimney damper, you must first wait for the smoke to clear away from the fireplace completely. Then, you'll have to find the damper, which may be at the interior or exterior of the fireplace. Often, it is found inside, and you'll need to take a flashlight, work gloves, and a protective mask to peer in. You may find a lever or a pull chain that must be pulled down to lock the damper into place.
#2: Keep the Heat On
Remember, using a fireplace to heat your home will not necessarily save you money. Heat won't reach most areas of the house (assuming your home has more than one room). If you shut off the central heat while you use your thermostat, the other rooms of the home will cool down significantly. Then, when you do need heat, the system may need to work harder to heat your home, resulting in higher bills for you (and discomfort).
Keep the heat on while you use your fireplace, and at a slightly lower temperature if you want to save money.
#3: Check for Leaks and Drafts
The chimney damper should seal tightly after you close it. You may be able to tell if it does not, simply by putting your hand nearby. However, you may need to call in a chimney sweep for help.
You should also have tempered glass doors outside of your fireplace and all of the right protective measures to keep your living room safe and help trap heat in your home. Ask a fireplace technician for more information.
#4: Call in Technicians for an Inspection
It's important to call in local HVAC technicians each year for an inspection of your heating equipment. But it's also important to have chimney sweeps check your chimney and fireplace each year, even if you don't use it very often. It keeps your chimney working efficiently, and technicians can check for leaks that may further harm home efficiency.
It's also the only way to ensure you prevent a chimney fire from spreading to the outside of the house. Make sure you only call in CSIA certified technicians to do the job.
2nd Generation Chimneys, Inc. is a trusted name in chimney and fireplace inspections and service in St. Paul, MN. Call our friendly team to learn more.