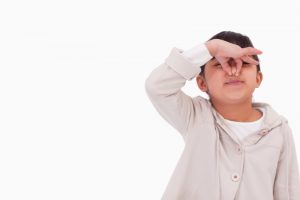 We expect most of the strange smells in our homes to come from the bathroom — human waste and clogged toilets can certainly be a little stinky! But, what if we told you that the smell you're smelling isn't coming from the bathroom at all? And no, it isn't coming from the garbage can either… No, that smelly smell you're smelling is coming from the chimney!
WHAT? How is this possible?
Well, there are actually a number of reasons why your chimney might start to stink, and below, we've listed some of them for you. Not to worry though — if you've got a stinky chimney, we can help! So, what are you waiting for? Keep reading to find out more!
So, Why Does My Chimney Smell?
Like we mentioned above, there are quite a few reasons why your chimney may start to smell, including:
Creosote Build-Up
Creosote is a thick, tar-like substance that develops as a by-product of the combustion process — and it definitely not something you want lining the walls of your chimney. You see, creosote is extremely flammable, and it is the leading cause of chimney fires! Therefore, it is important that you schedule chimney cleaning in Minneapolis, MN at least once a year to prevent the build-up of this substance.
Fortunately, you might be able to detect the build-up of creosote with your nose. Creosote most often smells like fresh tar, or even like one of your neighbor's are having a barbeque. If you notice this particular scent coming from your chimney, it is a good idea to call in a pro.
Water Leaks
Surely, you know that any water leaking into your home is a BIG deal. Not only does it cause all sorts of structural damage, but it can also quickly lead to health concerns if you are not careful! Therefore, it is important to ensure that your chimney is properly sealed, as to not let any water into your home.
Water in the chimney can leave behind a musty or mildew odor, so it is important to contact your local chimney professionals right away if you notice this scent coming from your fireplace.
Critter Problems
Your chimney is a great little hiding spot for all sorts of critters! Unfortunately, though, when nature calls, the critters in your chimney could be leaving behind more than just a little fur (if you know what we mean!) Animal scat could give off some particularly unpleasant odors, so it is important to call in a pro is you smell anything that resembles animal waste.
We Recommend Professional Chimney Cleaning
We recommend scheduling chimney cleaning in the summer—and not waiting until fall. The smell won't just go away on its own, and it's something you really don't want to deal with. Moreover, the problem can turn into a major safety issue! So, now that it is August, it is the perfect time to schedule your services!
Schedule your chimney cleaning services with the pros at 2nd Generation Chimneys, Inc.