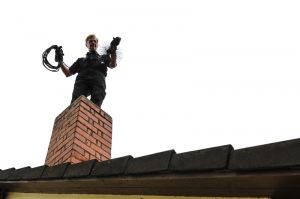 We all love a good DIY project, right? Certainly, you've spent hours scouring the internet for tips on how to stain that old coffee table, build a cute planter for your garden, and maybe even remove a nasty clog from your shower drain. But one thing is for certain: when it comes to your chimney, it's best not to take matters into your own hands.
With Autumn on its way, now is the perfect time to schedule your chimney cleaning in St. Paul, MN (if you haven't done so already). Of course, chimney cleaning is a job best left to the professionals… for a number of reasons! Keep reading below and we'll tell you why.
Here's Why You Need a Pro
Like we mentioned above, there are a number of reasons why it's important to call a professional for your chimney cleaning services. These reasons include:
Your Safety Matters
The first reason to get a professional chimney cleaning this year (and every year) is that your safety, and your family's, should always be your number one priority.
The buildup in a chimney can lead to a number of problems, chief among them a fire hazard. Creosote is a tarlike substance that develops as water vapor combines with other byproducts of the combustion process. Creosote is also highly flammable, and the longer it sits in your chimney, the more likely you are to have a dangerous chimney fire that could spread to the rest of the home.
Save Money
With regular chimney cleaning, you can actually save money on fuel. If you have a wood fireplace, regular chimney cleaning makes it so that wood can burn more efficiently. As long as you continue to use dry, seasoned wood within your fireplace, your solid fuel should last a long time to come!
Prevent Big Problems
With regular chimney cleaning, you can prevent problems within your chimney and fireplace from spiraling out of control. Routine cleaning almost always includes an inspection as well. Chimney professionals may find out that the masonry needs tuckpointing or that the flue is cracking, and you'll need to schedule repairs.
Still, this means you won't be faced with a much larger, more dangerous problem later on. Cracks and tears in the chimney can cause a fire to spread to the outside of the chimney, and it's important that you do what you can to prevent this. Annual inspection and cleaning is the way to go.
A Professional Does the Job Better
It's so important that you call professionals to maintain your chimney. Without the right expertise, you may not be able to catch a small problem that could turn into something huge, and you might not have the tools necessary to keep your chimney clean and clear. Calling a professional means having peace of mind that your home is safe and sound. We recommend doing this at least once a year!
Schedule your chimney cleaning services with the team at 2nd Generation Chimneys, Inc. today. Customer safety is our priority!