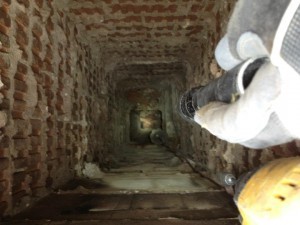 We know a lot of people are doubtful that regular chimney cleaning is all that important. How much dirt could be in there? And why should you care? It's out of your view, after all, and you care much more about the condition of your fireplace. But, of course, chimney cleaning has nothing to do with the way the chimney looks.
For the most part, it's about your safety. It's also about your comfort. To understand why we're so adamant about annual chimney cleanings, we think it's important to understand, first and foremost, what substances are lurking within, threatening your health and comfort. Here they are:
Creosote
The first thing you need to know about is something found in most chimneys—and it's extremely dangerous. Creosote is a thick tarlike buildup made up of the residue left behind when using your fireplace. Smoke, debris, dirt, and water vapor clump together and bake on to the lining of the chimney or flue. Certain conditions of burning wood make creosote thicker, such as using unseasoned wood.
So what's the problem? Creosote is highly flammable. Chimney fires are more likely to start, increasing the chances of a fire spreading to the outside of your home. This is absolutely something to avoid.
Chimney Soot
Your fireplace may be putting out an excess of chimney soot. We'll be able to get an idea of whether this is a problem when we look in your chimney and be able to recommend ways to avoid this issue in the future (or make any repairs that will help with the problem).
What makes chimney soot such a big deal? Isn't it to be expected? Well, a small amount of soot exposure likely won't do you much harm. But long-term exposure to excessive chimney soot may lead to lung irritation and risks to your respiratory system.
Animal Droppings (or Worse)
Birds and other animals can leave droppings in your chimney, and the "ick" factor is the least of your worries. Sometimes, these droppings contain a fungus that could make you ill if spread to the home.
Unfortunately, there's also the possibility that animals could die within your chimney. We often find dead animals in unsuspecting homeowners' chimneys, and what the carcasses attract could certainly make one sick. Aside from simply cleaning it up, we may recommend chimney caps and other steps to prevent this in the future.
Damage
Finally, we come to one of the most troublesome hidden chimney dangers: damage to the interior (or exterior). Chimney fires are, unfortunately, quite common, with many homeowners never realizing one has occurred until after the fact (often during one of our inspections). Each fire leaves behind damage that could increase your risk of another fire.
What's worse is that damage to the chimney increases the risk of a fire spreading to the outside of a home. During a chimney cleaning, we also do a thorough inspection to let you know of any damages we'd want to take care of in a separate appointment.
For chimney sweeping in Minneapolis, MN, contact 2nd Generation Chimneys, Inc.