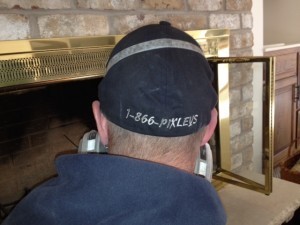 A lot of people in this part of the country love winter. Others simply tolerate it. Others may loathe it, but stick around for the many positive elements of life here in Minnesota has to offer. Regardless of where you stand on the matter of the season itself, though, you have to admit that a great heating system is integral to your enjoyment of the winter weather. While few homeowners use their fireplaces as their sole heat source, many use them daily to supplement their heating.
As effective as fireplaces can be in heating one's home, a major part of their appeal is the ambiance and soothing nature of having a roaring fire contained safely in the hearth. "Safely" is the key word there. Remember, you're still dealing with an open flame in a home largely constructed of wood and filled with combustible materials. That is why we want to give you some tips for using your fireplace in Edina, MN safely this winter.
Schedule Your Chimney Cleaning Ahead of Time
The cold weather can really sneak up on us around here, which is why it is always best to just get your chimney cleaning out of the way early on. When the real chill hits the air, it can be very difficult to resist the temptation of starting up a fire in the fireplace. If you haven't had your chimney cleaned out for the year, however,  there is just no way to do it safely.
If you have not had your fireplace inspected in a few years—and we cannot stress how much you are pushing your luck if this is the case—then you should contact us to schedule a more thorough inspection. You seriously want to be certain that your chimney is in safe operating condition before you're using your fireplace once more.
Be Careful with That Tree and Decorations
If you celebrate Christmas in your household, and if you include a Christmas tree as part of the decor in your home, you need to keep the tree away from the fireplace. No, not just a matter of few inches. No, not just off to the side. If you are going to be using your fireplace throughout the winter season, keep that tree at least three feet away from the hearth. You don't want any sparks jumping out into the tree's branches, or onto the linen tree skirt.
Also, and not to go against tradition, but keep your stockings away from the fireplace, too. Yes, the mantle is the classic place to hang them. But why not opt for the window frame, instead? Does dangling combustible material above an open fire seem like that good of an idea? We didn't think so.
Only. Burn. Seasoned. Firewood.
No, you should not be throwing gift wrapping in the fireplace. No, you should not be throwing a cut-down tree, needles and all, into the fireplace. No, the fireplace is not the most convenient spot to throw the tinsel. Don't burn anything but seasoned firewood and a bit of starter, like newspaper, into the fireplace.