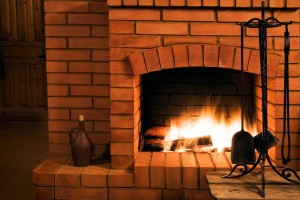 Okay sure, we definitely still have some time before the cold weather returns, but that does not mean that it's too early to start thinking about your fireplace! Trust us, when winter does arrive, you'll be glad that you've already taken care of any fireplace troubles that you may have.
If you've noticed that your fireplace is beginning to deteriorate or that it's not working properly, it's definitely time to schedule your fireplace repair in Eden Prairie, MN. However, there are all sorts of fireplace troubles that homeowners face every year, and below, we have listed a couple of repairs that you just might be able to do yourself. All you need to do is keep reading to find out more! 
Here's What You Can Do For Your Fireplace
Here are a couple of repairs that just might be DIY-suitable:
Fixing the Damper
The damper within your chimney is the mechanism that you open before you start a fire and close afterward (in order to keep your home as energy-efficient as possible!) But eventually, you may notice that the damper won't open and close anymore!
Repairing a faulty damper can take little time and just may be something you can do yourself! (But of course, if you run into trouble, contact a professional ASAP!) Here's what you need to do:
First, clean out the fireplace as completely as possible. Then, clean out the damper, which is located up near the top of the fireplace. You will likely need to lay on your back to do this, which means that it is important to wear a mask and protective glasses. If the damper appears to be stuck, all you have to do is apply some WD-40 and clean off any additional debris. In some cases, though, the damper will need to be replaced—that's where a professional can help!
Replacing the Mesh in a Fireplace Screen
You might find one day that you are worried about using your fireplace because of an issue with the mesh screen used to protect your home from hot embers. Fortunately, though, this is an issue that you can totally handle on your own! All you have to do is ask for a cut of screen the same size as your old one from your local hardware store!
True Deterioration Requires Professional Work
Here's the thing: if your fireplace or chimney is deteriorating (i.e. the mortar isn't holding together as it should be), you need to have a professional take a look. Deteriorated brick and mortar will require complex tuckpointing that an amateur simply cannot handle.
It Might Be Time for an Upgrade
If your fireplace or chimney is falling apart, it may be time to consider more "drastic measures." In this case, a fireplace insert might be your best bet: think of a fireplace insert as a new fireplace that's inserted directly into the old one. It meets the current manufacturing standards for safety, so you can trust its performance!
To schedule your fireplace repairs, contact the team at 2nd Generation Chimneys, Inc.