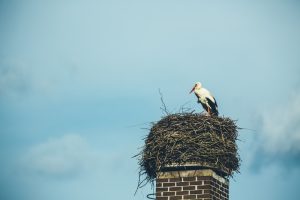 When you think of the services that your chimney may eventually need, you might think of problems related to crumbling fireboxes, flue issues, or water damage. Another very common problem that we can help to solve has to do with animal infiltration. True to our word about being your one stop shop for all of your chimney service needs, we offer animal removal in Minneapolis, MN.
What's better than having a professional come and remove pests from your chimney for you? How about preventing those pests from getting into your chimney to begin with! That is one of the main benefits that you will enjoy when you have a chimney cap professionally installed on top of your chimney. Consider the following benefits of keeping a chimney cap in place, and be sure to let us know if you have any questions or you wish to schedule an installation. 
Keep Critters Out
There are a lot of homeowners and outdoorsy individuals that truly love animals. Even the most ardent fans of animals have to admit, however, that they do not necessarily want to have an open door policy when it comes to wild animals and their homes. The fact of the matter is that a chimney is often a dry, warm place, and it is easy to understand why critters outside may want to hole up in yours.
If you hear something scuttling around in your chimney, you may have squirrels or some other varmint seeking a way into your home or, at the very least, a spot to crash for the night. Using a chimney cap can help to keep pests out of your home. It is not only beneficial for you but also safer for the little rascals in question.
Prevent Nesting
What's worse than an animal poking around in your chimney for some temporary shelter or maybe in an effort to find a way into your house and the food stored within? An animal that assesses the accommodations, finds them to its liking, and really decides to set up shop! You are not renting out your property to the local wildlife, but sometimes it doesn't seem that they get the message.
As we mentioned above, we are available to remove animals from your chimney, and we can even sanitize the situation when called for. Using a chimney cap is a great first line of defense against such problems, though. You have locking windows and doors to keep unwanted guests out of your home. Give your chimney some protection as well.
Prevent Water Damage
For a compound that is such a vital resource and constitutes so much of our planet and even our own bodies, water sure can be the source of a lot of headaches. As anyone that has ever had a plumbing leak will attest to, a little bit of water can do a lot of damage. So why erect an open straw that feeds right into your home?
Okay, so the design of the modern chimney isn't quite that vulnerable to water, but you get the idea. Capping your chimney is among the most effective ways in which to prevent the many, and costly, problems that water damage can do. Let us help you to protect your chimney.
2nd Generation Chimneys, Inc. is here for all of your chimney service needs.