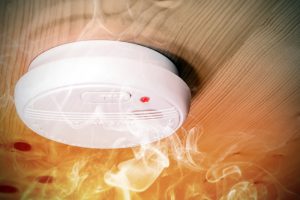 Some homeowners rely on their fireplaces as their main heat source. Others just cannot resist the cozy comfort that cuddling up with a cup of tea and a good book next to the fireplace can provide.  Regardless of how much you use your fireplace, and regardless of what its main function in your home may be, you need your fireplace to function properly at all times. That means burning wood effectively and removing smoke from the home reliably.
So why does it seem like your home is taking in smoke when you burn wood in your fireplace in Minneapolis, MN? There are actually quite a few reasons why this may be the case. That is why working with a professional and experienced fireplace contractor is so important. You need the problem diagnosed accurately before it can be resolved successfully, after all. Here are a few reasons why your home may be a bit hazy when burning wood.
When Does It Happen?
When your fireplace starts to smoke can be indicative of a relatively simple solution to the problem. If your fireplace seems to smoke most right when the flames start up, you may simply have a fireplace that is too cold! By lighting some newspaper or other kindling ahead of time and holding it up to the flue, you can get the downdraft reversed, priming your fireplace for safe, smoke-free use.
Is Your Wood Wet?
You don't want to walk out to your backyard, gather up some wood from a freshly fallen tree or that has been buried under snow all winter, and try to burn that in your fireplace. Why not? Because dry, seasoned wood is not going to produce the smoke that fresh, wet wood will. Wet wood smolders, which may be great for keeping bugs away when you're camping or if you want to keep a fire burning for a long time. When you want to burn it in your home's fireplace, though, wood seasoned for 6-12 months is best.
Check Your Damper
We know, we know. You've lit countless fires in your home, and you've never had an issue with smoke like this before. So obviously this means that you've run into a brand new problem requiring expert fireplace repairs, right? Well, that may be the case, and we're not suggesting negligence on your part, but do yourself a favor—just double the check the flue. We've all done it before, and you may have simply have forgotten to open it up this one time.
Put a Cap On It!
If the weather is very windy outside, as it often is in our area, then that wind may simply be forcing air down your chimney at a faster rate than the flue is pulling smoke out. When that happens, the smoke generated by burning wood in your home may be forced back down into your living space. Of course, you can't control the weather, right? So what to do?
Schedule service with us to have a chimney cap put in place. Chimney caps help to prevent a lot of chimney problems, from pest infestations to rainwater damage and, yes, smoke issues related to wind. We can install a quality chimney cap that can help you to get more from your chimney.
Contact 2nd Generation Chimneys, Inc. for your next chimney sweeping appointment in Minneapolis, MN or for more information on smoking fireplaces.