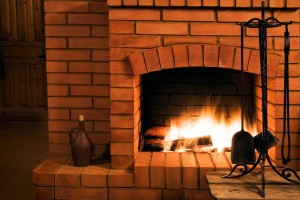 A wood-burning fireplace is a beautiful thing for any home in Minneapolis. Not only does it keep you warm and cozy, it also looks gorgeous. Many of the homes we visit have a classic look and feel, such as those colonial or craftsman homes that seem to get swept off the market in no time at all. Many others have chimneys or fireplaces renovated after the construction of the home, often adding a chic, modern look and feel.
Although a fireplace may look gorgeous from the inside and a chimney rustic from outdoors, it doesn't mean everything is just fine inside the chimney and fireplace. We strongly recommend keeping a careful eye on your fireplace and scheduling routine services each year for the chimney, and for your family's health and safety. Here are our recommendations.
Keep the Fireplace Clean
Some ash at the bottom of a fireplace (about an inch) can actually help to keep a fire burning correctly and efficiently. One it reaches the bottom of the grate, however, it's time to clean it.
A wood-burning fireplace is especially likely to gather ash and debris, along with flammable creosote, which could ignite and start a dangerous chimney fire. Wait until the fire is out and the ashes are completely cooled. Then sweep up the ash and dispose of it properly. (It can even help to feed your flowers.) A trick to making ash easier to sweep or vacuum without kicking up dust is to sprinkle coffee grounds into it.
Schedule Annual Chimney Cleaning
Chimney cleaning should be completed each and every year in order to prevent the possibility of a dangerous chimney fire. A fire can ignite thanks to a buildup of creosote, which forms as a byproduct of combustion. Only professionals can get the job done safely and properly, so be sure to call expert licensed and certified chimney sweeps this year.
Get Inspections Each Year (and Special Inspections as Needed)
Along with a chimney cleaning, you should be getting inspections each year (usually included with your service). Chimney sweeps look to see whether there is any minor or significant damage to the chimney that needs repair. They may notice, for example, that worn mortar is putting your home at risk. Any cracks in the chimney or chimney flue create a bigger risk of a fire spreading to the rest of the home.
In addition, you might schedule inspections before selling or buying a home, or if you notice anything unusual with your chimney and fireplace.
Keep an Eye on It Inside and Out
Finally, a good way to keep your chimney maintained, along with cleaning the firebox and calling technicians for service annually, is to keep an eye on any changes. Many people ignore problems with the structure of the chimney. It may seem that a little wear and tear outside of the chimney even adds a little bit of charm.
But the problem, as we mentioned, is that even small issues make it more likely for a fire to spread outside of a home. Any change in the look of your chimney should be investigated by a professional chimney sweep.
For chimney cleaning in Minneapolis, MN, contact 2nd Generation Chimneys, Inc.