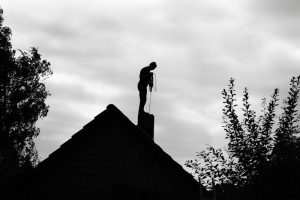 Fall is finally here and you know what that means–it is time to decorate with some autumnal and Halloween themed décor if you haven't already started! That's right, you can break out the leaf wreaths, the pumpkins, and the cuddly blankets. But before you set everything up for the fall season, you likely will want to clean up a bit to make sure you aren't adding dust onto dust.
While you are in the process of cleaning up around the house, it may be a great time to make sure that your chimney is ready for the fall season too. While, yes, the mantle might be ideal for that spooky vampire figurine, we are talking more about chimney cleaning in Edina, MN, rather than your dusting habits.
What Does Chimney Cleaning Do?
Chimney cleaning is about more than just wiping down the fireplace bricks and making sure things are safe and ready for when you want to start up a fire. However, safety is a huge part of it.
Chimney cleaning is going to involve service provided by a professional technician who uses the appropriate tools and an expert approach to remove any dirt, debris, or other build-ups from your chimney. This ensures your fireplace and chimney system are safer and more effective this season and beyond!
The Benefits of Professional Chimney Cleaning
So, why would you want a professional technician to come to your home to perform your chimney cleaning? Can't you just try to do it yourself? While you can try to attempt cleaning your chimney on your own, we would never advise it. Here are some of the major benefits you'll get when you choose to schedule your chimney cleaning with a professional instead.
Your Safety is Assured: A professional technician is going to have the tools and experience needed to make sure that your chimney is cleaned properly. This reduces the risks of things like leftover build-up causing a chimney fire or damage to your chimney flue causing problems with your fireplace.
Your Chimney Will Do Its Job Much Better: When things like dirt, creosote, or other debris are left in your chimney, they can actually hinder the ability for your fireplace to keep up a steady, reliable fire. This, of course, is going to be a problem when you are trying to cozy up on the couch with a spooky movie. A professional chimney cleaning will remove any issue that might hinder your warm fire
Fewer Bad Smells: Build-up that is left unaddressed in your chimney can end up creating some less than pleasant smells when you start up a nice fire in your fireplace. Once you get your chimney cleaned, you won't have to worry about any bad smells caused by creosote or anything else in your chimney like animal nests.
If you need to schedule a chimney cleaning for your home's chimney, you will want to make sure that the person doing the job is a trained professional who knows that they are doing. If you are on the lookout for a good technician, you can end your search with our team.
Contact 2nd Generation Chimneys, Inc. to schedule your chimney cleaning services.