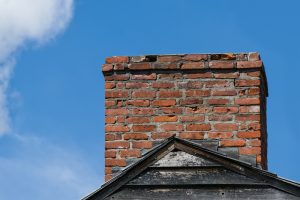 You would definitely notice if there were a fire in your home, right?
Not necessarily. Chimney fires can come and go without warning. You may never notice the signs, not until a chimney technician inspects your chimney. This is especially true if you don't know what to look for.
It's so important to detect chimney fires early so you can get the source of the problem under control. You certainly want to avoid the possibility of a fire spreading to the outside of a home, and each chimney fire increases this likelihood. Here are some ways a chimney sweep can tell you've had a chimney fire, some of which may come as a surprise.
Damaged roof or roof antenna
The excessive heat from a chimney fire may cause parts of your roofing to become charred. But another way to tell is by looking at a TV antenna or satellite dish on the rooftop. Often, this will show some obvious signs of scorching, signs you may be able to catch yourself if you look closely.
Puffy, colorful creosote
Creosote is a tarlike residue left behind in chimneys, something you'd expect to see whether or not you've had a chimney fire. Too much creosote increases your fire hazard, but that's why you have chimney sweeps come out once a year for an inspection and cleaning. But when the creosote is thick, puffy, and streaked with a rainbow pattern, that's when you know your chimney has been compromised by a fire.
Trouble opening the damper
The chimney damper is what you open to vent the fireplace and keep smoke from backing up into your home (but you close it off most of the time to save energy). If this is damaged to the point that it's becoming difficult to open, the chimney damper may be warped from a fire.
Detect fires faster with the help of the friendly chimney sweeps in Minneapolis, MN at 2nd Generation Chimneys, Inc.