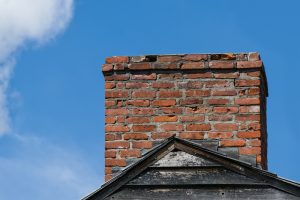 Take a look at the chimney pictured here. It might look like a typical chimney, if not a bit worn with age. But to chimney sweeps, this structure has a couple of major issues. We want to make sure that your home is protected, so we're helping you learn what might make a chimney fire more likely or what may help it to spread to the outside of the home.
Be sure to schedule inspections and cleaning for your chimney each and every year, so you don't have to worry about trying to evaluate your chimney on your own. Call our friendly team today!
Problems with the Masonry
Damaged masonry may seem like no big deal to many when it's on a chimney. In fact, some people feel that it adds a level of rustic charm to an older home. But damage to the outside of the chimney should be treated as a problem.
First of all, that damage to your masonry may be a sign of chimney fires past, which means you must have the inside of the chimney inspected. Secondly, the spaces between these bricks could allow for a fire to spread to the outside of the home. Chimney fires are common, but the inner flue is supposed to prevent it from spreading, something that may not work as expected if you have damage to the masonry.
A Missing Chimney Cap
Another issue with this picture is that the chimney is missing its crown. Chimney caps are not necessarily standard on all chimneys, but it's always a good idea to have one. This keeps critters from crawling through the chimney flue or nesting up there for the summer. It also helps to prevent water damage, one of the biggest threats to your chimney.
2nd Generation Chimneys, Inc. offers chimney inspections, chimney cap installation, and repairs in Minneapolis, MN. Contact us today!