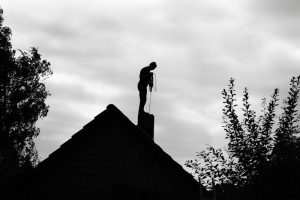 We often recommend that customers call us for a chimney inspection in Minneapolis, MN in the fall, before the winter arrives and the fireplace sees extensive use.
However, if you didn't arrange for a chimney inspection before the winter, it isn't too late to have it done. This isn't a service you need to "catch" in time or just forget about—it's vital you have your home's chimney inspected by professionals annually. This helps to keep your fireplace and chimney safe, energy efficient, and working the way it should.
What happens when our experts come to your home for a chimney inspection? We'll go over what you can expect.
What We're Looking for
During a chimney inspection, we'll look over both the exterior and interior of the chimney for places where there is damage. We're looking for things such as cracks, decaying mortar, or loose flashings. We check for blockages and the potentially harmful build-up of creosote which is a leading source of chimney fires that can not only damage the chimney, but may escape the chimney to ignite parts of the house.
How intensely our technicians go into the inspection depends on the inspection level which we'll explain below. We'll always inspect the basic parts like the damper, firebox, and liner, which are essential for the chimney to function properly and prevent hazards and toxic fumes from entering the house. 
The Levels of Inspection
There are three levels of chimney inspection, and the type you'll need depends on several factors.
Level 1
If you have a chimney that's in good condition, isn't too old, and hasn't experienced any major changes, Level 1 is probably the best choice. Our technicians will clean the chimney to remove blockages such as creosote, debris, and animal nests.
They'll carefully examine important components such as the firebox, damper, and smoke chamber. They'll look over the interior flue liner and the chimney exterior for masonry damage or cracks in the crown. We sometimes use our video equipment if we suspect there's damage.
Level 2
This is the more in-depth inspection that almost always involves video camera inspections. We recommend this if your chimney has any new appliance installations (such as a switch in fuel use) or if it has sustained damage. It includes the Level 1 procedures, plus deeper inspections and full video inspection.
Level 3
This is the, uhm, most sweeping inspection, and we'll recommend it if your chimney has experienced something like a chimney fire or partial collapse. It includes all the steps done in Levels 1 and 2, but may include removing some parts of the chimney structure to gain better access for a complete inspection.
After the Inspection
If we find damage or other problems with your chimney during the inspection, we'll report them to you and follow up with recommendations for repairs or cleaning. These recommendations may be as simple as basic cleaning, or we may advise repairing masonry, replacing the damper, and fixing mortar joints.
You can trust us with your fireplace and chimney needs. Contact 2nd Generation Chimneys, Inc. to get your chimney inspection scheduled.