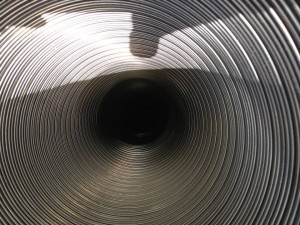 Not sure what a chimney liner is or what it is for? Let us help with that.
Whether you are trying to learn about better chimney care or looking to just learn more about your chimney, one thing you should know about is your chimney liner. This is a vital part of your chimney and fireplace that can impact your comfort and your safety too. We can help you learn more about your chimney liner and provide the services you need to keep it in good shape.
Types of Chimney Liners
Did you know there is more than one type of chimney liner? It's true! And how you care for it can vary based on the type that you have. The types of liners that are out there include:
Clay liners: Chimney liners that are made of clay are relatively inexpensive and are some of the most common masonry liners around. While these may not pair well with gas fireplaces, they work well with open fireplace chimneys that are kept up correctly.
Metal liners: If you look into your chimney and see a metal tube, it means you have a metal liner (we don't suggest doing this though). Metal liners are usually used as an upgrade or repair for a chimney. Usually made of stainless steel or aluminum, these liners are great for any type of fireplace and will last a long while if properly maintained.
Cast-in-place liners: These are liners made of a lightweight cement-type material that creates a seamless pathway for the gases and smoke created by your fireplace. These permanent liners are great for any type of fireplace. However, they are pricey to replace should they sustain damage.
Why Chimney Liners Are Important
Chimney liners weren't always used in homes with fireplaces. Of course, chimney fires used to be a much more common issue because of this. A chimney liner isn't something that is put into your chimney just for looks. It serves a threefold purpose. Your liner is going to help with…
Guarding against heat transfer: Heat transfer can cause problems for any woodwork in the home that is close to the chimney. With a liner however, this heat transfer is kept low which nullifies the risk of fire.
Protecting your chimney masonry: The gases that pass through your chimney are harmful to the brock and mortar that make it up. If allowed to erode too much, the damaged brick and mortar will allow for higher heat transfer along with gas leaks in the home. Liners protect your chimney masonry from sustaining this damage.
Creating a properly-sized flue: The chimney liner has to be the right size to provide proper ventilation. This can make or break how safe and efficient your fireplace and chimney are.
Only Professionals Should Work on Chimney Liners
As you may have guessed, chimney liners aren't something that anyone other than a trained expert should work on. That's what we are here for, after all.
Our team can help with everything from your chimney liner installation to chimney relining work. We are pros at what we do–that's why we have a host of certifications including the Certified Chimney Reliner Designation.
Have a chimney liner in Minneapolis, MN that needs the be repaired or replaced? Come to the experts at 2nd Generation Chimneys, Inc. to get the job done right. Contact us today.