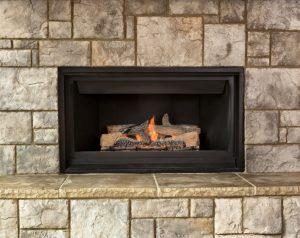 Living in Minneapolis has its perks but it also has its drawbacks, one of which is our chilly winters. Thankfully our homes have reliable heating systems that we can use to stay comfortable. What's more, many homes in Minneapolis also boast the benefits of a nice fireplace to help boost the warmth in winter.
As great as fireplaces are however the need to chop or purchase wood and constantly keep track of the build-up of soot and debris can eventually wear on anyone. You can opt-out of these tasks by switching to a gas fireplace. You may be wondering, "How can I do that if I already have a wood-burning fireplace in my house?" The answer is that you can reach out to us for gas insert services in Minneapolis.
The Benefits of a Gas Fireplace
Before you switch from a wood-burning fireplace to a gas-burning fireplace you will want to make sure that the choice is one that benefits you. For example, if you aren't anywhere near a gas line to connect to, a gas fireplace may not be a good match for your home. If you are in a region where you can get easy access to natural gas, however, you can enjoy some of the following benefits:
Energy efficiency: The truth is that in terms of warmth produced compared to fuel source used, wood logs aren't the most efficient. In contrast, natural gas fireplaces have high energy efficiency as there is a nearly 1-to-1 ratio of warmth produced to fuel used.
Better warmth for your home: With wood logs, there is going to be a certain amount of heat loss in your fireplace. A gas fireplace, however, will provide a reliable and steady resource of warmth being provided to your home.
Better safety and cleanliness: No wood means no soot or ash which means a fireplace that is easier to keep clean. What's more, it means not having to worry about the dangers of stray sparks getting onto the rug.
A Step-By-Step Guide to a Gas Insert Fireplace Service
If you are ready to make the switch from a wood-burning fireplace to a gas fireplace, we can help. The great thing about gas insert fireplaces is that they can be installed into the same space as your previously wood-burning fireplace. Here is a handy step-by-step guide to getting ready for that insert installation.
Choose your ideal fireplace: Much like choosing any comfort system, you want to make sure you are choosing the best gas fireplace for your home. We provide the best gas fireplace products on the market including Napoleon and Regency fireplaces.
Schedule a date for installation: Once you know what product you are looking for, speak with one of our professional technicians to select the best date and timeframe to get your gas insert fireplace installation taken care of.
Let the pros handle the rest: When a 2nd Generation Chimneys, Inc. technician shows up at your door, you can sit back and relax while they take care of the gas insert fireplace installation. You can rest assured that our professional team members will do the job right and keep things clean and safe too.
Schedule your fireplace services with 2nd Generation Chimneys, Inc. We will make sure we keep your home safe and warm.