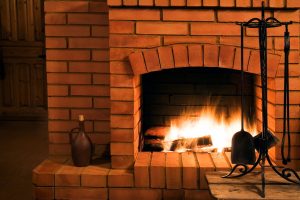 The fireplace in your house has been there for many years. In fact, lately it has crossed the threshold from looking "well-loved" over into the arena of "worn down."
This will happen! Time and the elements will have their impact on everything and your fireplace is no exception, even with regular maintenance. However, this doesn't mean you should just leave it as is.
Take a look at your fireplace today and consider if you notice any of the following issues with it. If you do, then we hope you contact us to get a fireplace repair in Minneapolis taken care of.
4 Indicators That Your Fireplace Needs Repairs
Fireplace troubles shouldn't be ignored. If you pick up on these indicators of trouble, it means it is time to contact a fireplace technician to schedule repairs.
1. The firebox has cracks or rust in it.
The firebox is the main part of your fireplace where the fire itself is held. Because this part of the firebox is often made of metal, it can wear down over time. If you notice any cracks in your firebox or you can see rust anywhere on the metal of the firebox, it spells trouble. Don't try to scrub rust out yourself! Any structural damage to your firebox must be handled by a professional technician.
2. Your brickwork is starting to look worse for the wear.
Yes, there is something to be said for vintage aesthetics in home decor but this doesn't mean that you need a fireplace that is falling apart. Do a visual assessment of your fireplace's brick facade if it has one. Do you see bricks that are cracking, crumbling, or otherwise falling apart? If so, then you need a professional to repair this part of your fireplace as moisture has started to impact the bricks and can end up messing with the entirety of your system. We strongly advise leaving this task to a professional as the bricks are made with special materials to prevent heat transfer and using the incorrect materials can easily create bigger issues.
3. There is white staining around your fireplace
White stains or white marks around your fireplace are known as efflorescence. This is caused by salts that have dried on the fireplace due to excess moisture in the fireplace. While not harmful to you or anyone else in the house, it can easily develop into a bigger problem for your fireplace if not addressed.
4. You can't keep a fire going for long.
When you build a fire in your fireplace, whether it is with wood or it is gas-fueled, it should be able to keep going for more than a few minutes. If you discover that you can only keep a fire up for a short amount of time, it can indicate trouble with your airflow through your fireplace and chimney due to a faulty damper.
The team at 2nd Generation Chimneys, Inc. has served Minneapolis since 2001. Let us help you keep your fireplace safe and effective. Contact us for your next fireplace service.