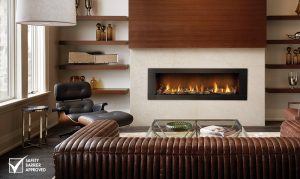 A flickering flame and a warm, cozy living room are just about all you need as temperatures get colder and colder. Of course, this can only be achieved with a safe, functional fireplace in the home. If you're in the market for a new one, we've got some ideas for you to start with.
We highly recommend getting over to a fireplace showroom to find out what type of fireplace is the best fit for your needs in terms of convenience, cost, and style. To get you started, we detail some of the most sought-after fireplace types and styles popular in our area. If you're in the market for a Napoleon fireplace, come check out our showroom!
Wood-Burning Brick Fireplaces
There's nothing quite like the traditional look of a wood-burning fireplace, especially one plated by a beautiful brick display. Gas log fireplaces can give off the look of real logs, but it's not quite the same. There's nothing like that authentic crackle and even the smell of a wood-burning fireplace bringing the room together.
Of course, a wood-burning fireplace also has its downsides. Despite the ambiance achieved, there's a lot of soot and ash to clean up afterward. Purchasing and storing wood each year can be annoying. And they can be difficult to start up.
Modern Gas Fireplace
Modern gas fireplaces can be completely customized to fit your style. For example, you can have a beautiful solid slate fireplace surrounded by a tile mosaic. An elevated gas fireplace may be surrounded by panels painted to match the walls, so it's almost like a beautiful, comforting wall hanging.
Besides, there are many advantages to owning a gas fireplace over a wood-burning fireplace, even if it's not quite the same experience. There's the ease of startup to consider and the minimal maintenance. It's safe, decorative, and worth the investment in your home if you plan to sell in the future.
Free-Standing Stove/Fireplace
A free-standing wood-burning stove could be a welcome addition for single-room heating anywhere in the house. One major advantage is that it does not require you to take advantage of existing ventilation, as the flue can be added to the home almost anywhere. It can adequately heat a room and it's a greener way to do so. With the right décor, it may be a great industrial addition (but many people prefer the look and feel of built-in fireplaces).
Napoleon Brand
Napoleon is one of the most trusted names in fireplaces. Napoleon products are durable, innovative, and safe. With so many beautiful options to choose from, you're bound to find the perfect one to fit your home.
This is especially true when you visit our showroom! We have one of the largest Napoleon fireplace showrooms in the nation. We showcase all types of options: wood, gas, electric; fireplaces, inserts, stoves, and even outdoor heating. Choosing the type of heating system you need is only one half of the equation, but finding a brand you can trust makes your search complete.
Get your Napoleon fireplace installation in Edina, MN from 2nd Generation Chimneys, Inc. Visit our showroom or call us today!