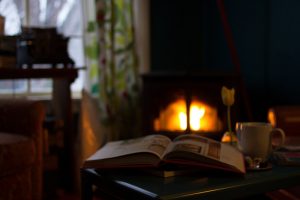 Have you ever gotten into one of those debates with a friend over whether physical books or a digital reader was better? They both accomplish the same goal (letting you read that new book) but many people maintain that the experience is very different. We can get into discussions just like this about wood-burning and gas fireplaces.
When you are getting ready to schedule a fireplace installation in Bloomington, MN, you may find yourself faced with this same debate. Which option is better? Most people have their own opinions. But we aren't here to debate, we're here to help you learn more about the option you may know the least about: gas fireplaces.
What You Might Not Know About Gas Fireplaces

While wood-burning fireplaces are still common across the country, there is another option available to you if you want to enjoy a good fire without collecting logs. We are talking about gas fireplaces, of course! These systems are great for homes all around this area and can be just as comfortable for you as a wood-burning fire. Here are some great things that you should know about gas fireplaces to help you determine whether one is the best fit for your house.
1. There is more than one type of gas fireplace
Did you think you only had one type of gas fireplace to choose from? Nope! There are three!
Inserts: Are you considering installing a gas fireplace in exchange for your old wood-burning fireplace? Don't seal up the old firebox just yet! You can choose to add an insert gas fireplace that is set-up in the same space that your previous fireplace was in. This type of fireplace is a great producer of heat and looks good too.
Gas log sets: Do you have a fireplace that you just don't use? Maybe you want the ambiance that a fireplace provides more than the warmth — you have a powerful heater after all If this sounds like you, a gas log set may be a good match for your home. Log sets produce fire and are set up in your old fireplace but they don't produce as much heat as other systems do.
Built-ins: Last but not least, we have built-in gas fireplaces. These are the option for people who have never had a fireplace in any form before. They are constructed like a gas fireplace insert might be (metal box-within-a-box) but are installed in your home by a pro who has to find and create the space for them.
2. They are very energy efficient
Wood-burning fireplaces may be nice but gas fireplaces are actually quite a bit more energy-efficient and eco-friendly in comparison. Most models have close to a 90% efficiency rating meaning that almost all the gas that is used to power them is turned into heat for your home.
3. Gas fireplaces still require professional upkeep
There may not be soot to dig out and deal with but that doesn't mean your new gas fireplace is okay to trust in the hands of an amateur. From inspections and cleaning to repairs, your gas fireplace requires the expertise of a trained professional.
Interested in having a gas fireplace installed in your home? You can rely on us to get the job done.
Schedule your next fireplace installation with the team at 2nd Generation Chimneys, Inc.