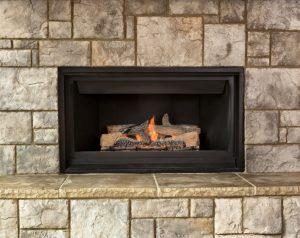 It is impossible to ignore the way that technology has and continues to affect every aspect of our lives. Fans of hard copy books may be turned off by the popularity of E-readers, vinyl nuts may take issue with the cold sound of digital music files, and so on. While there are always going to be people that prefer the low-tech options, this obviously does not mean that others aren't going to jump at modern convenience.
Remember, even household vacuum cleaners were a novel idea at one time, and you don't see many people refusing their benefits because they're loyal to their brooms and dustpans! Even something as simple in theory as building a fire in a fireplace is not immune to the creep of modern technology, as evidenced by the popularity of gas fireplace inserts. Are you curious about the benefits of using gas fireplace inserts in Minneapolis, MN?
Make Use of Existing Space
Have you run into trouble with your existing fireplace? Have you thought about getting rid of it entirely,  but you cannot bring yourself to do so because it just looks so nice? Then a gas fireplace insert is definitely well worth your consideration. As the name suggests, a gas fireplace insert can be, well, inserted right into that traditional fireplace! You don't have to tear apart that lovely old hearth that you are so fond of. But you also don't have to put up with the trouble that using that fireplace to burn wood has created in the past,  either.
Enjoy the Ambience without the Work
Some people really do enjoy the nature of using a wood-burning fireplace, and that is totally understandable. Whether it's the ritual of splitting and stacking wood putting you into a zen-like trance, or you simply like the excuse for a bit of exercise while doing something productive, it's certainly a task that can be rewarding.
For others, though, it really is a hassle. Is there enough wood to last the season? Is the wood seasoned enough? Where are you going to store it? And that is not even taking into account the fact that you need to clean the fireplace out when the embers are dead. With a gas fireplace, you can enjoy the warmth and flicker of a fire with little more effort than it would take to flip on a light switch.
Maintain Good Indoor Air Quality
A properly designed fireplace that is kept clean and well-maintained is not going to be pumping smoke into the house. That does not mean that burning solid fuel indoors has no effect on the air quality within a home, though. If maintaining great indoor air quality in your home is a major priority for you, then using a gas fireplace insert in lieu of a woodburning fireplace or even a pellet stove may be the way to go.
You don't have to worry about pellet dust flying into the air as you restock the hopper, you aren't going to have that smoky aroma, and you aren't going to be kicking up dust while you clean out a fireplace. A gas fireplace insert is certainly the cleaner option, and is especially well-suited for homes where respiratory issues may be a concern.
Contact 2nd Generation Chimneys, Inc. to discuss your gas fireplace insert options.