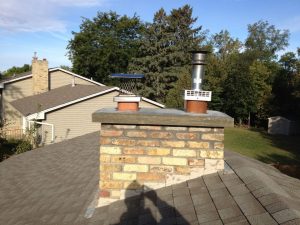 There's a reason why so many homeowners still choose to use a fireplace in their homes. They throw off good heat, they look great, and they provide a level of comfort that goes beyond the physical. They are relaxing, they allow for contemplative moments, and the splitting and stacking of wood is something that a lot of people cannot imagine doing without when winter comes around. There are also valid concerns that come with fireplaces, though.
While a well-designed and properly maintained fireplace will really be able to optimize its performance, the fact remains that there can be problems with efficiency. Those homeowners not quite so enamored with the splitting and stacking of wood will also find themselves wishing for a simpler solution—ideally without having to give up on the other benefits that fireplaces have to offer. This is why we often recommend the installation and use of gas fireplace inserts in Minneapolis, MN.
Is Gas Really Greener?
In some ways, yes. But why is this such a major concern? Well, some homeowners want to be more environmentally conscious. Others are drawn in due to the fact that, with greener technology, there usually comes greater efficiency. If you ask us, your own personal motivations don't really matter that much. If you want to go green for any reason, it makes sense to look at gas.
Wood actually is a very renewable energy source, so some people may think that burning wood is the greener option. While availability and renewability may be on your side, though, the byproducts of burning wood are not. Burning gas results in comparatively "clean" exhaust. It doesn't have the particulate matter that wood smoke does, which can actually cause respiratory issues if not vented properly (hence the importance of a great chimney/ fireplace installation in the first place!).
Does this mean that you have to switch to gas in order to be greener? No, not really. You should certainly consider the use of a pellet stove, particularly a high-efficiency model, if you are really bent on burning solid fuel. Fewer pollutants are generated than when burning wood, and the sawdust that composes the pellets themselves is itself a byproduct of the lumber industry.
The Money Question
Okay, here's the big one. Burning natural gas, especially when the exhaust is simply vented directly out through a wall in the house, is almost certainly going to save you some money. It's cleaner in that you won' have to deal with cleaning out the fireplace, and you won't have bits of wood littering the floor, but the point of efficiency is the big selling point.
The fact is that a wood-burning fireplace will exhaust a lot of air out of your home through the chimney. With that air goes heat, and that means that you are essentially going to be reheating your living space by burning more wood.
Remember that there are a lot of other factors that will influence energy efficiency, heating output,  and other facets of your fireplace, regardless of what type you use.  From units that draw in combustion air from outdoors to designated high-efficiency models, we'll help you to find the right solutions for your energy goals!