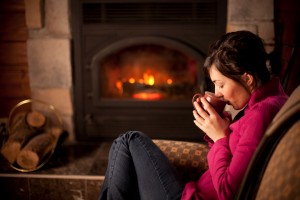 Safety is our number one priority. At 2nd Generation Chimneys, Inc., our technicians are trained to use safety measures put in place by the Chimney Safety Institute of America. We encourage all homeowners to use safe practices anytime a fireplace and chimney is in use, but we know it's tempting to simply want to start a fire and forget about it.
That's why we're here to offer some reminders and, hopefully, some new information to keep your home safe. By all means, use your fireplace this season, but follow these safety tips to ensure a healthy home.
#1: Only Use Seasoned (Dry) Firewood
You should only burn firewood that has been left to dry for 6-12 months. Use discretion when purchasing wood from retailers and using it right away; unseasoned wood can allow for the buildup of creosote in your chimney that could lead to fires. You can season wood for 6 months yourself by evenly stacking wood outside, covering with a tarp or shelter but leaving air holes on the side.
#2: Don't Burn Anything That's Not Firewood
We know a lot of people throw paper, construction scraps, and other items into their fires, but we warn against this. These items can have chemicals that make them unsafe to breathe in your home, and they may allow for further creosote buildup in the chimney due to excess moisture.
#3: Keep Flammable Items Away from Fireplace
Hanging holiday decorations above the fireplace can be dangerous. We recommend keeping anything flammable away from the fireplace, at least while you are using it.
#4: Get a Chimney Cap
When rain or snow get into the chimney, the resulting moisture can damage the chimney structure, creating a fire hazard. It's another way for flammable tarlike creosote to build in the chimney flue as well. Have a chimney technician install a chimney cap to keep creosote out, and keep little critters out of the chimney as well!
#5: Never Leave a Fire Unattended
Whatever you do, don't leave your fireplace unattended or fall asleep while you are using it. This can be a major safety hazard.
#6: Test Smoke Detectors
You must have working smoke detectors throughout the home, especially near rooms where people sleep. Test smoke alarms by holding down the button and listening for the beep. Here's a general timeline of smoke detector maintenance:
Test smoke alarms at least once per month.
Replace batteries every 6 months.
Replace smoke detectors every 10 years.
#7: Teach Fire Safety
If you have kids in the home, it's important to make sure they all know what to do in case of a home fire. This includes knowing escape routes and emergency phone numbers, along with establishing a meeting place in case of fire. Everyone should know the location of the fire extinguisher and how to use it.
#8: Open the Damper First
Even for experienced fireplace users, this can be surprisingly easy to forget. If you don't open the damper before you start a fire, the home can quickly fill with smoke. Close the damper when you are through in order to ensure home energy efficiency.
#9: Get the Chimney Repaired
If there are problems with your fireplace or chimney structure, be sure to have them repaired. Masonry issues may add charm to an old home, but they can be dangerous. Cracks and holes in the chimney might allow a fire to spread to the outside of a home—and fast.
#10: Schedule Chimney Sweeping
Professional chimney sweeping saves lives. Get the chimney cleaned out every year so that a dangerous buildup of creosote does not have a chance to ignite. Only call certified chimney sweeps to do the work.
2nd Generation Chimneys, Inc. for chimney and fireplace services in St. Paul, MN.