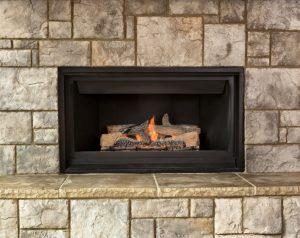 There are many parts to a modern chimney and fireplace set-up that might be taken for granted. Believe it or not, today's chimneys are far more advanced than their predecessors of 50 or even 100 years ago. This is hard-won knowledge too.
One of the great parts of your chimney that you may want to pay more attention to is your damper. Yes, your damper. This part of your chimney places an important role in keeping things running right. Here's what you need to know about your damper…and what can go wrong with it.
The role of your chimney damper
If you are new to having a fireplace and chimney, there is a chance you may not know what a damper is, to begin with. Let's fix that before you build a nice warm fire!
The damper is a part of your chimney that controls the airflow in and out of the house. Before you ever start a fire in the fireplace, you must always check that the damper is open. That way all the smoke and gas can make their way out of the house through the chimney flue, rather than being routed into the home to put you and your loved ones at risk.
Oh, and don't forget to close that damper when you're done! Leaving it open can allow cold air into your home which is the opposite of what you want.
What's wrong with your damper?
Your damper isn't something that you really see when you use your fireplace. So how do you know when something is wrong with it? Better yet, what can go wrong with your damper, to begin with?
Here's what you need to know about your damper so you know when you schedule chimney damper repair in Minneapolis.
There is creosote build-up on the damper: Creosote is a combination of soot, dirt, and moisture that can settle in your chimney flue and also on your damper. This can make it hard to open and close your damper and can even hinder airflow.
Parts of the damper are breaking down. If you open your damper and notice that there is no movement from the handle or no movement from the damper itself. You may have joints or other parts that are breaking down due to age.
The damper won't open properly. Maybe you can open your damper a little bit but not all the way. This may indicate that the damper has been warped due to excessive heat from your fireplace.
Fixing Your Damper
Fixing your damper is something highly important for the sake of your comfort and safety. This is one of the many reasons to reach out to a professional chimney technician to get your damper backing shape. The technicians on our team are here to help whenever you need us. We are proud to serve Minneapolis and the surrounding areas.
Whether it is a bad damper or a bad chimney flue, you can rely on us. Contact 2nd Generation Chimneys, Inc. today to schedule a visit.