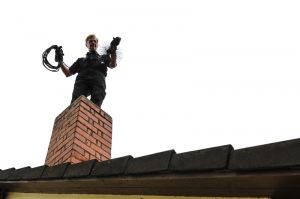 We are headed into fall at this point and our nights are getting colder. Maybe you've found yourself thinking about getting a nice warm fire going one evening soon. We say break out the cozy blankets and your favorite book or movie to really make things enjoyable. However, before you do all that, we have to ask, have you had your chimney cleaned yet?
Chimney sweeping in Minneapolis, MN is one of the most important jobs to have taken care of at the beginning of the cold weather season. If you are scheduling work for a heater, you should be looking at getting your chimney checked out if you haven't already. Here's why:
The Problem That Chimney Sweeping Prevents
Some people might feel overwhelmed by the idea of how much time a chimney sweeping appointment can take out of their day. However, we can promise that the benefits this service provides are well worth it. After all, it is preventing a lot of trouble down the line such as:
Creosote build-up: First and foremost, your chimney sweeping appointment is going to help you get rid of any built-up creosote in your chimney. Creosote can impact any chimney whether it is attached to a wood-burning or gas-powered fireplace. A good professional sweeping removes creosote and leaves your chimney clean and clear to use.
Animal debris collection: You spent a few months not using your fireplace and in that time some critters may have tried to turn your chimney into their home. Even if those animals didn't stick around they can leave behind plenty of debris. Chimney sweeping helps get rid of leftover fur, droppings, nests, and, yes, even critters who stuck around.
Airflow problems: Things that build up or get stuck in your chimney can create problems with the flow of air out of the home. That means you run the risk of having smoke and harmful gases come back into your home when they should be going out. Chimney sweeping each year can help keep air flowing out of your chimney the way it is meant to.
Chimney fire risks: When you schedule regular care for your chimney it also reduces the risk of a chimney fire. When there is less debris and less creosote in the chimney it allows air to flow out correctly and gives sparks fewer places to cause trouble. Chimney sweeping not only cleans your chimney but keeps your home safer overall as well.
We strongly encourage anyone with a fireplace and chimney system that they use each season to schedule chimney sweeping regularly. This job should always be accomplished by a professional like ours. We are CCP (Certified Chimney Professionals) certified and we provide ongoing training for our team members to make sure the work we do meets industry safety and quality standards. We've served homes in Minneapolis and the surrounding areas since 2001 and we look forward to helping you too.
If and when you need help with your chimney or fireplace, come to a team with a reputation that speaks for itself. Contact 2nd Generation Chimneys, Inc. today to schedule an appointment.