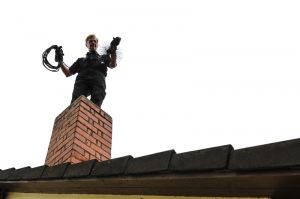 There are different times of year that we recognize as the right time to accomplish certain things. For example, the time after Thanksgiving is when many people start decorating for Christmas, or the start of spring normally triggers spring cleaning in households across the country. So if there is a season for everything, then when might it be the best time to schedule chimney cleaning in St. Paul, MN?
Not only can we answer your questions about when to schedule this vital service but we can also provide the chimney cleaning that you need. All you need to do is keep reading to discover when you should contact us to set your service up.
We want to make sure that we tackle as many of your questions about this service as we can. Below we have listed some commonly asked questions about chimney cleaning service with our answers for you.
Question: Wait, do I actually need to schedule chimney cleaning?
Answer: If you have a fireplace and chimney that you have used at all, you should schedule chimney cleaning. This is true whether you have a gas fireplace or a wood-burning fireplace. There is build-up that will collect in your chimney that presents a fire risk if it isn't cleared out.
Question: Do I need to get my chimney cleaned even if I only used it a couple of times this winter?
Answer: The short answer to this question is yes. Anytime you use your fireplace, it creates particles that will collect and build-up in your chimney. Regularly cleaning your chimney, even if it isn't used regularly, saves you money by making the job easier and keeps your home safer.
Question: Why can't I clean my chimney myself?
Answer: Unless you happen to be a professional chimney sweep, the average person doesn't have the expertise nor the tools to allow them to get their chimney cleaned properly or safely.
Question: What does chimney cleaning do exactly?
Answer: When you get your chimney cleaned, it allows a professional chimney sweep to safely remove the build-up of creosote, soot, and dirt from your chimney that would otherwise create a big fire risk whenever you get your fireplace going again.
Question: Alright, I need to clean my chimney. When do I get the job done?
Answer: Whether you have used your chimney all winter long, or you only got the fire going a few times for family get-togethers, you should schedule chimney cleaning services at least once a year. Not only will chimney cleaning keep you safer, but it will also prevent unwanted smells and can make your fireplace more efficient.
The next time you decide to make use of your fireplace, think about how long it has been since you schedule a chimney cleaning service. If it has been close to or more than a full year, reach out to our team to get a chimney technician out to your home ASAP. We perform effective cleaning services and chimney inspections too.
Contact 2nd Generation Chimneys, Inc. for all your chimney care services.