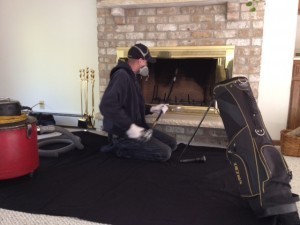 Springtime brings to mind the idea of spring cleaning for many people. This is because, after a long winter being cooped up in the house with the doors and windows shut, it is nice to get rid of the dust and debris and let in some fresh air. In the spirit of spring cleaning, we'd like to suggest that you consider scheduling a chimney cleaning in Minneapolis as one of your "spring cleaning to-dos."
No, we don't mean you should take a rag and a spray bottle to your fireplace yourself. Chimney cleaning is one of the expert services we offer that is going to help clear out any unwanted and potentially dangerous debris from your chimney. Even though your chimney may be the one thing that has been seeing regular airflow during the past several chilly months, that doesn't mean it is clean.
Let's look at what exactly a chimney cleaning service entails and why it benefits you… and your chimney, of course.
What Does My Chimney Cleaning Service Involve?
Chimney cleaning service is exactly what it sounds like: a service that cleans out your chimney. To be more specific though, it addresses soot and dust build-up and removes any debris left by animals. When a professional gets the job done, you're firebox and your chimney are going to be cleared out of any possible debris that could otherwise put you at risk of hazards like a chimney fire. A pro will also be able to address anything hindering your ventilation from your chimney, such as leaves or nesting around the chimney screen.
How Does Chimney Cleaning Benefit Me?
A chimney cleaning is both important and helpful for the longterm use of your chimney. But what exactly are the benefits of this service? Here are a few that we think you should know about.
Reduced fire risk: Chimney cleaning is important for removing a substance called creosote which can cause a chimney fire if allowed to remain for long enough. Having any creosote in your chimney removed during a cleaning significantly reduces the risk of a chimney fire.
Improved ventilation: A chimney that is overly dirty won't be able to vent properly, creating the potential for exhaust fumes getting into your home.
Easier inspection: Whether you have a gas or wood-burning fireplace, you need to get a chimney cleaning before you have your chimney inspected so, when a professional does come by to inspect the chimney, they'll be able to see any chips or cracks that could present a problem.
How Often Do I Schedule a Cleaning?
Much like caring for your other home comfort system, chimney cleaning services should be scheduled at least once a year to ensure your safety and comfort. With that said, you are only truly guaranteed to benefit from a chimney cleaning if you schedule your service with a professional. Asking anyone other than a trained professional to do this job, or trying to do it yourself, is highly dangerous.
Don't risk it! Instead, contact our team of professional chimney technicians for your next appointment.
Contact 2nd Generation Chimneys, Inc. today to schedule your chimney cleaning service.