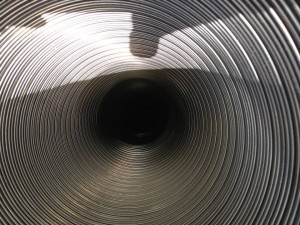 When you use your chimney, the smoke and soot it produces are going to go up and out of your home through your chimney, if all is well inside of the said chimney. You can usually tell when something is wrong within your chimney because of cold drafts or smoke entering your home rather than going outside where it belongs.
Much of the operation of your chimney depends on the well being of your chimney flue or chimney liner. This is a part of your chimney that protects the brick masonry from the build-up of creosote, thereby reducing the risk of a chimney fire. It also helps the smoke from your fire exit the way it is supposed to. Your chimney liner is vital to the use of your fireplace and the protection of your home.
So when your chimney liner in St. Paul starts to struggle, it is going to help you to know what type of liner you might be looking to repair or replace.
The Three Types of Chimney Liners
There are going to be three types of chimney liners out there that you may want to be acquainted with.
Clay Tile Liners: These are some of the most common types of liners because they are inexpensive, easily available and work nicely for well-maintained, open fireplace chimneys. The only issue with these types of liners is that they will crack in the event of a chimney fire. Also, these aren't the best to pair with gas fireplaces.
Metal Liners: Much as one might expect, metal chimney liners are made with stainless steel or aluminum. These types of flues are usually used to upgrade or repair chimneys and are known to be safe and durable. A metal liner is great to use for both wood and gas fires though it is good to know that these liners are going to be more expensive than their clay counterparts.
Cast-in-Place Liners: Last but not least is cast-in-place liners. These lightweight, cement flues are installed inside your chimney to form a seamless passageway for the gases that your fireplace produces. While these are great for your chimney's structural integrity and offer permanent solutions, they are challenging to install and also pretty pricey too.
We Can Help You Make the Choice
So why should you know what the options are for chimney liners? This information is going to be primarily helpful when the time comes to replace the current liner within your chimney. This can occur for example if your clay liner cracks apart, or your metal liner starts to break down due to advancing age and use. You may also want to consider a replacement in the case of switching around your fireplace from wood-burning to gas-fueled.
If and when you need to determine what your best option for a chimney liner replacement is going to be, you will want to use the resources available to you through our team of professionals to get the job done. We can assess the state of your current liner and provide the next steps for what your best choice will be, whether it is to just repair the current liner or replace it.
Make sure your chimney gets the attention it needs so you stay warm and safe. Contact 2nd Generation Chimneys, Inc. to get started.