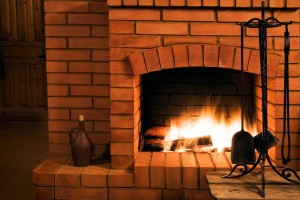 Although you may expect your fireplace to get dirty with extended use, it's not intended to be this way. The fireplace should be kept clean, even if soot seems to collect quickly at the bottom of the fireplace. And if this is the case, you should do whatever you can to ensure this is kept under control.
Part of this is regular fireplace sweeping. Part of this is prevention. But you should also be sure to call in professional technicians to clean your chimney and fireplace at least once per year, and help you make changes to reduce soot and debris buildup in the first place.
Clear out debris
The first step of cleaning your fireplace is to sweep out debris. A small brush is often included with a set of fireplace tools. Alternatively, you may use a small broom for a dustpan. Don't forget to brush the door!
If ashes fly into the air as you sweep, you might try sprinkling some coffee grounds over them to change the texture for easier cleanup. If debris and soot is still stuck on to the firebox, remember that sweeping is only part of the equation.
Use a safe cleaner
Some cleaning sprays are actually designed for use in the fireplace. Others, like oven cleaner, are just as effective, especially if you have stuck-on debris that needs clearing. An all-purpose cleaner, designed for the kitchen or bathroom, may not be powerful enough for the buildup, but works as an effective pre-cleaner.
Whatever you use, make sure it's safe for your fireplace material. Ammonia, for example, may work as an effective cleaner. However, it's important to use it safely and know that it can damage a brick fireplace.
Prevent buildup in the first place
While you should continue to clean out your fireplace and chimney each year, you'll notice the fireplace gets less buildup if you take steps to reduce soot and creosote levels. This can be done first by ensuring the wood you use is of the right caliber—dried (seasoned) for six months or more.
Building an efficient fire is important as well, stacking wood at the back of the fireplace on a properly elevated grate. You can also have a chimney cap professionally installed to keep moisture out of the chimney, an important step in controlling dangerous creosote levels.
IMPORTANT: If it's in the fireplace, it's in the chimney
If you can see soot built up in the fireplace, then it's in the chimney as well. In the chimney, smoke, water vapor, and other particulate combine to create a sticky, tarlike residue lining the chimney, known as creosote.
Creosote adds a layer of danger to your chimney. It's highly flammable, and it may cause a fire within the chimney the next time you use your fireplace. Don't put your family members in a potentially dangerous situation! If you haven't had professional chimney cleaning this year, don't use the fireplace (even a clean one) until you do.
For fireplace sweeping in Eden Prairie, MN, and to keep your chimney safe, you can count on 2nd Generation Chimneys, Inc. Contact us today.