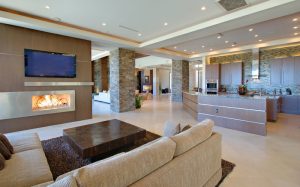 Looking for the perfect fireplace to fill your living room with warmth? If you're not building a new home or working on huge renovations any time soon, you can probably rule out a real wood fireplace. If you don't already have one, installing a wood fireplace can be quite costly as you'll need to change the construction of your home to add a chimney of the right size to properly vent smoke, as well as dangerous gases like carbon monoxide.
Thankfully, there are other solutions that won't require you to drop so much cash and change the structure of your home. A gas or electric fireplace could still offer the comfort you seek for a smaller price tag. So how do you choose for your home?
Gas Fireplace Benefits
What people really love about a gas fireplace is that the flames it gives off are like those in a wood fireplace. Gas fireplace manufacturers have found ways to recreate the look and feel of wood burning with what we call "gas log inserts."
Today's gas furnaces burn fairly clean, and work a lot like a gas oven (but with a stylish appearance). They can make a room (or several) quite warm. It's often the perfect solution for homeowners looking for that wood fireplace look and feel, but it does have its drawbacks.
Gas Fireplace Drawbacks
A gas fireplace seems like the perfect alternative to a wood-burning fireplace—and to some homeowners it may be! But there are some difficulties with installation. A gas furnace does produce carbon monoxide, and there is a real flame, which means there's a safety risk. There's also a risk of burns if there are small children in the home or if an accident happens.
You'll also need to have a vent installed or retrofitted into an existing chimney. That brings us to the cost. A gas fireplace is a big investment, and to some people—after comparing it to an electric furnace—it doesn't seem worth the warm cozy feeling. You will likely also spend more using the fireplace, as some heat is lost to the outdoors as it runs.
About Electric Fireplaces
Electric fireplaces aren't for everyone. That "real" flame is, of course, missing from the equation. However, manufacturers are coming closer and closer to reproducing the real thing as much as possible. Flames often look realistic—not like a recreation on a screen. In fact, new technologies are allowing for water vaporizing systems that light up to look like the real thing.
The heat that emits from today's electric fireplaces is quite impressive. When combined with your home's furnace, you'll probably pay less than $100 a year to use your electric fireplace, as no heat is lost to the vents. Another benefit to electric fireplaces: the flame is not hot to the touch, and the safety risk is just as high as that of, say, a light fixture in your home.
The Bottom Line
All in all, it depends on your own needs and expectations. If you've always wanted a fireplace with a real flame, a chimney technician can work with your to get a wood stove or gas fireplace that suits your needs. However, if you're looking to save money and recreate the experience of a fireplace, an electric fireplace can be installed in any room of the house with minimal maintenance.
Discuss your options for fireplace installation in Edina, MN with 2nd Generation Chimneys, Inc.