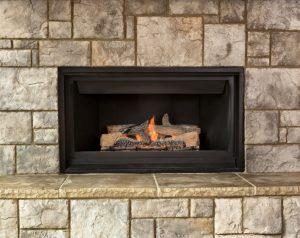 Are you getting a jumpstart on your spring cleaning to-do list? If so, we applaud you! But we also want to make sure that your fireplace doesn't miss out on the benefits of this yearly cleaning activity. It can be easy to forget sometimes but, no matter which type of fireplace you have, you really do need to schedule a regular fireplace cleaning in Minneapolis, MN to keep things in working order.
Before you grab the dust rag and vacuum though, we want to make sure you understand that fireplace cleaning isn't something to do on your own. While many homeowners know how to do some tasks, such as clearing out their ash dump if they have a wood-burning fireplace, cleaning your fireplace is a job best left to the professionals. Let us explain how we can help and why it is important to let a technician be the one to help clean things up.
Why Fireplace Cleaning Service is Important
So why can't you just knock out fireplace cleaning on your own? To put it bluntly it's because your fireplace is made with specific parts and, if you don't have the training to clean these parts properly, you can end up doing more harm than good. This doesn't mean that you should ignore the need to keep your fireplace clean though.
Professional fireplace cleaning is going to help keep your fireplace and your chimney in better shape. This is important for a few reasons such as:
Improved safety: A cleaner fireplace is less likely to create safety hazards such as gas build-up or wild sparks. Cleaning your fireplace can also reduce the risk of a chimney fire.
Reduction in bad smells: Built-up debris such as creosote will start to create a smell if it is left unaddressed for too long. Getting your fireplace cleaned by a pro is going to get rid of this issue.
Fewer repairs: The cleaner your fireplace is kept, the less likely it will be that it needs frequent repairs for things like a damper that has been corroded by built-up debris.
Does a Gas Fireplace Still Need to Be Cleaned?
While a gas fireplace won't create as much of a mess as a wood-burning one, it still absolutely needs to be kept clean. Natural gas can still leave behind residue in your fireplace and chimney. If you don't get your gas fireplace cleaned regularly, it can start to have its fair share of problems. This can include gas burners getting clogged with debris which can delay or halt ignition altogether–and that is bad for you and your fireplace!
Make sure to schedule cleaning services for your gas fireplace so that you can keep it running properly. Just make sure to have a professional do this to ensure your safety and guarantee that the parts of your fireplace aren't damaged.
Can I Clean My Fireplace At All?
Yes and no. When we are discussing cleaning out your fireplace, we are referencing deeper cleaning tasks such as clearing creosote off your damper, clearing clogged burners for a gas fireplace, etc. These are tasks best left to the pros. However, there are some small tasks you can take care of to make these jobs easier and keep things cleaner. This includes cleaning the exterior of your fireplace and removing any large items that may have found their way into the fireplace
Ready to do some cleaning? Contact 2nd Generation Chimneys, Inc. to get started.