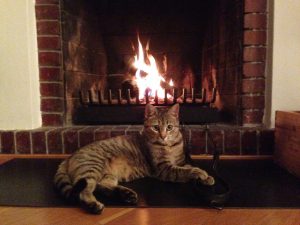 When it comes to having a fireplace in your home, it is good to know you have options. And no, we aren't just talking about choosing the size of the fireplace or selecting the bricks or tiles that will decorate the facade (although you will get to choose those too).
These days you have a new option for your fireplace fuel source. You no longer have to buy or chop up wood for your fireplace if you don't want to. This is because you can opt for a gas fireplace instead.
If you are curious to learn more about getting a gas fireplace in your home, then read on!
What Might Make a Gas Fireplace Great For Your Home
If you are curious whether or not a gas fireplace is the right fit for your home, or if it is worth a switch away from your current wood-burning fireplace, we can help. Here are some reasons to consider when deciding on a gas fireplace:
They are energy efficient: While there is still fuel being burned, the amount of gas that is used in a gas fireplace is far more efficient and less harmful to the environment than burning wood.
You get more heat: If you are looking for a gas fireplace to help heat your home during the colder months, then you'll be glad o hear that natural gas fireplaces produce more heat for the amount of fuel they burn than wood-burning ones do.
You can choose a set-up that works for you: There is more than one kind of gas fireplace setup available to you–we've listed some of them below! This means that you can choose the type that fits you best.
Less time/money spent on getting firewood: If you are looking to stop using firewood, then a gas fireplace is a great switch to make. If you have an existing gas line connection then you won't have to spend time or money on wood logs moving forward.
Types of Gas Fireplace Set-Ups To Choose From
As we mentioned there is more than one kind of gas fireplace set-up you can select from. Work with our team to get the right fireplace for your needs.
Gas logs: Hoping to keep the aesthetic of a fireplace without using wood logs to heat the house? Then you may want to choose gas log set-up. This option produces minimal heat while still offering the pleasant visual of a fireplace.
Gas insert: Have an existing fireplace and looking to switch over to a gas fireplace that can provide a good deal of warmth? This can be the right fit for you.
Gas fireplace installs: You are looking to get a fireplace in your home. Get started with an energy efficient and eco-friendly one by installing a gas fireplace from the start.
Getting a gas fireplace system set up in your home is something that requires a professional to get the job done.
Need help with a fireplace installation in Minneapolis? Contact 2nd Generation Chimneys, Inc. to get the job done right.