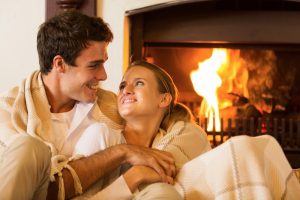 It is a wonderful feeling to be able to start up the fireplace on a cold night and spend some quality time with your loved ones. This cozy set-up really draws people in. We want you to enjoy this time but we want you to also enjoy it safely.
As you start using your fireplace more often, or you get ready to start up your fireplace for the first time, we want to give you a couple of reminders to improve your safety. This way you can enjoy the use of you're fireplace and chimney without worry.
Here are some of the safety measures you should keep in mind this season and the next.
Keep decor and decorations away from the fireplace
Are you getting into the spirit of fall and decorating the house's interior and exterior? We are glad to see you making the most of the season! However, we will advise that you keep those decorations away from the fireplace.
A variety of adhesives and paper decorations are highly flammable. While they might look good next to or above the fireplace, it is better to keep most holiday decorations a few feet away from the fireplace.
Always double-check the damper
Before you ever start up a fire, whether it is wood-burning or gas-powered, you must have the damper open. This part of the chimney controls the airflow for the fireplace and out of the chimney flue. If it is left closed on accident it will cause smoke and harmful gases like carbon monoxide to fill your home rather than exiting the house through the chimney. This can prove extremely hazardous to the health of everyone in the home.
Before you ever do anything to start up your fireplace, always double-check that the damper is properly and fully open.
Address leaks in the chimney
The last time that it rained, did you notice that water was dripping down your chimney? If so, then there may be a leak within your chimney somewhere. In a worst-case scenario, this may indicate a leak in your chimney flue which is likely to cause drafts as well as allow water to leak in. In other cases, however, it may just mean you need your chimney cap fixed. Make sure to act promptly to have a leaky chimney checked out.
Schedule a chimney inspection before regular use
The best way to ensure the safe use of your chimney and fireplace throughout the coming months is to schedule a professional chimney inspection and cleaning. The inspection gives your chimney technician the ability to assess the state of your fireplace and chimney to see what work needs to be done. From there they can provide the most effective chimney cleaning to address the biggest issues or work with you to plan to address current repair needs effectively.
Our team wants you to enjoy the comfort that your fireplace can provide but we also want to make sure you are safe. Use these safety tips and make sure to come to our professional technicians for service to make your fireplace effective, efficient, and reliable.
Contact 2nd Generation Chimneys, Inc. to book an appointment.