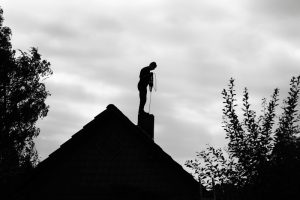 Yes, your wood stove's chimney does need to be cleaned. Many homeowners assume that their wood stoves do not need chimney cleaning since they produce so little ash and combustion byproducts. However, any type of wood burning you do, whether it be in a traditional fireplace or a wood stove, will result in the need for chimney cleaning. Similar to a traditional fireplace, your wood stove has a firebox and a chimney. Over time, all chimneys collect a material called creosote, which is a byproduct of burning materials and it is highly flammable.
We understand that scheduling your wood stove chimney cleaning might not be on the top of your priority list, but it should be. We still have a long winter ahead of us here in Minnesota, so it's probably safe to assume that you will be using your wood stove quite a number of times before the season ends. Waiting to schedule chimney cleaning in St. Paul, MN could spell trouble for your home and put your family in danger. Luckily, 2nd Generation Chimneys, Inc. is here to help! Below, we have provided a list of reasons as to why you should have your wood stove chimney cleaned. 
Why Should I Hire a Chimney Sweep?
Before we go ahead and tell you why you need to clean your chimney this winter, we want to highlight the importance of hiring a trained professional. Unlike the average homeowner, a professional chimney sweep carries the proper equipment. Cleaning a chimney can be a very dirty job, and only a trained technician has the right tools and protective gear to get the job done safely and correctly. Plus, a professional can discover issues that homeowners tend to miss and can tell if all the creosote has been properly removed. Okay, now on to the list. Here's why you should have your chimney cleaned:
Prevents chimney fires: This is the most important reason why you should have your chimney cleaned. Creosote, soot, and ash are all highly flammable and can easily catch fire in your chimney. A trained professional can ensure that these contaminants are removed, which significantly lowers the risk of a fire.
Prevents chimney corrosion: Combustion materials are also very acidic, which means they can eat away at the masonry and the metal that make up your chimney. A corroded chimney can release toxic combustion gases, which can be dangerous.
Prevents drafting issues: When there is too much buildup, airflow in the chimney is restricted, thus decreasing the overall efficiency of your wood stove.
Inspection: When you hire a professional to clean your chimney, it gives them an opportunity to detect potential problems, allowing for prompt repair.
Scheduling your wood stove chimney cleaning with 2nd Generation Chimneys ensures that your wood stove will heat your home safely and efficiently throughout the winter. Our service technicians are highly skilled and trained to clean chimney flues for wood stoves. In addition to cleaning, we offer repairs, installations, and inspections.