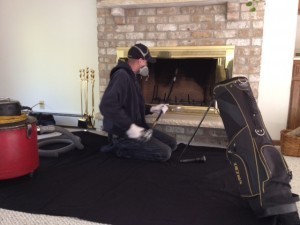 We know that summer is still in full swing and no one in the area is thinking about lighting up a hearty fire in their fireplace for a while. This makes now the perfect time to get your chimney cleaned! When you don't need the use of your fireplace and your chimney, it means that you don't have to worry about interrupting the warmth in your home to safely clean your chimney and provide chimney repair in St. Paul, MN if they are needed.
If you haven't gotten your chimney cleaning taken care of just yet, don't delay getting it done! You don't want to get caught with a dirty chimney when you really want to be enjoying a nice warm fire.
What is the Reason That You Need Regular Chimney Cleaning?
If you haven't dealt with regular chimney care before now, you may not know why chimney cleaning services are so important. The truth is that keeping your chimney clean and clear is going to improve the use of your fireplace and your ability to stay safe throughout fall, winter, and spring. This service is going to remove any build-up in your chimney that may lead to a risk of a chimney fire.
How Does Chimney Cleaning Help?
So what is it that chimney cleaning does to help your fireplace and your home? Chimney cleaning is a service that should be performed by professional technicians. Usually as part of a yearly inspection, technicians will use the proper tools and equipment to clean out your fireplace and your chimney. This removes things like soot and creosote build-up. Chimney cleaning is going to also take care of issues like animal nests and other debris left behind by pesky creatures. When performed carefully and correctly by a trained professional, chimney cleaning can prevent a variety of problems such as chimney fires, carbon monoxide leaks, ventilation hindrances, and low efficiency.
Do Gas Fireplaces Need Cleaning Too?
All too often there are individuals who believe that gas fireplaces don't require cleaning services. Unfortunately, this is far from the truth. Gass fireplaces absolutely need to be cleaned if you want them to continue offering efficient and effective heating.
While you may not have the same requirements as a wood-burning fireplace would (no need to clear out an ash shelf for example) you will still need to keep your fireplace and chimney clean. Gas fireplaces can still create soot and carbon deposits that will cause problems for your home.
We Provide Professional Chimney Cleaning
Whether you have recently moved into a home with a fireplace for the first time and haven't serviced it yet or you simply haven't cleaned your chimney out yet this year, you should make sure to get it taken care of. That is where we come in. Our professional technicians can check out your chimney and fireplace and perform effective cleaning that will keep your chimney clear of debris and your home safe.
Contact 2nd Generation Chimneys, Inc. to schedule effective chimney cleaning services.