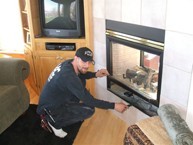 Perhaps you haven't thought too much about the different parts of your chimney before now. We get that you may just expect that this part of your home should operate without much worry and you'd be right…to a point.
Even within your chimney, there are parts that require care and your chimney damper is one of them. But do you really need to consider the condition of your chimney damper in the summertime?
The answer is yes. And we'll explain why.
Your Damper and Your Fireplace
The main purpose of your damper is to control airflow from your fireplace.
When you start up a fire in your fireplace, your damper has to be open. This is to ensure that the gas and soot that the fire creates exit your home through the chimney, rather than gathering in the room that the fireplace is in.
A damper must be able to be reliably opened before a fire is started to ensure proper airflow out of the house and then closed to stop cold air from entering the house. If either of these functions is hindered, it can put your health and your comfort at risk.
Why Double-Check Your Damper For Summer?
Many people wonder whether their damper is still worth paying attention to in the summer season and the truth is that, yes, you absolutely need your damper functional during this season.
The key thing to remember is that the damper needs to be able to remain closed properly. This is because leaving your damper open or even cracked open a little allows another entryway into your home for hot, humid air.
Should You Consider a Top-Mounted Damper?
If you have an old, worn-out damper in your chimney, it may be best to have a professional come to replace it. When you have your chimney damper installation in Minneapolis scheduled, it may also be a great time to consider adding a top-mounted energy-efficient damper too.
Serving as both a way to reduce heat loss and a more effective chimney cap, installing a top-mounted chimney damper can be a great investment. Installed in addition to the damper that sits at the base of your chimney, the top-mounted damper is set up at the top of your chimney and can help to improve your comfort and even keep the elements out of your chimney more effectively than a regular chimney cap. Plus, you can rely on a professional get the installation done in a timely and effective manner!
Your damper needs to be in optimal condition year-round to offer your home the protection it needs. If you haven't scheduled a chimney inspection yet, it is a great time to do so. One of the tasks we complete with our inspections is checking, cleaning, and lubricating your chimney damper.
Let's work together to ensure that your chimney and fireplace are safe and reliable exactly when you need them.
Contact the experts at 2nd Generation Chimneys, Inc. to book your next service. We can maintain your damper, give you more information on the benefits of a top-mounted damper, and more.